Editors Choice
Honda EU2200i 2,200-Watt Portable Inverter Generator
We chose this model as the best RV generator for one reason: quality. Honda RV generators have an unsurpassed quality that other generators can't come close to. Yes, you'll spend a small fortune compared to the price of the other models on this list. However, it's an excellent investment since you'll only have to make this a one time purchase and not have to worry about it breaking down.
Whilst this particular model only has a maximum of 2,200 starting watts and 1,800 rated watts, this is usually plenty for most people. We also appreciate the fact this model is lightweight. At 47 pounds, pretty much anyone can handle this compact generator with ease.
We would recommend this option to anyone who can fit it into their budget.
The Best RV Generator: Rated & Reviewed 2023
You want to go off-grid, you've found your perfect camping spot yet don't quite have the weather to rig up your solar kit. You are going to need a backup power source. This is when portable generators for camping become a godsend.
After all, camping by a fire sometimes isn't enough. We live in a world of convenience, so having the best motorhome generator with you on your travels can keep you connected to those home comforts whilst also enjoying the great outdoors.
This guide is here to help you learn everything you need to know about choosing the best generator for RV adventures, and we'll give you examples of the leading generators currently on the market.
Looking for the Best Portable Generators for RV use?
What features are important in a generator for RV camping?
What should you focus on?
How to size your portable power generator
Reviews of 9 of the best RV generators
Recommendations & our top pick generator for RV use

How to Choose the Right RV Generator
Portable RV generators have lots of working parts and features to consider before making a purchase. These can vary from brand to brand and between models so if you don't know what you're looking for, you could end up with a generator that doesn't fit your needs. Here are some of the most important features you should know before shopping around.
Size and Weight
Most RV generators are compact. The large ones however do come with handles and wheels to make them easier to move around. Generators vary in size and weight so much that the compartments in RVs for storing them are not made to a universal size. You should make sure that the generator you want to buy will fit into your RV compartment first, unless you are okay with it taking up other space in your RV or indeed using it outside.
The weight is also important because generators are heavy. While your generator may be in a compartment and won't need to be moved around much, you still want to be able to lift it if necessary. This requires an assessment of your strength and whether or not you'll have help with lifting. Many generators have more than one handle or are built with a steel open frame so that two people can carry them.
Fuel Type
There are three types of fuel that a portable generator for RV use can run on. These are gasoline, diesel, or propane. A straightforward way to choose which you want to use is to match the generator's fuel type to whatever fuel type your RV uses so that you'll have the convenience of only dealing with one type of fuel. In most cases, this would mean a gasoline powered generator.
Each fuel type has pros and cons, so before you settle on one, you may want to know the benefits of each.
Diesel fuel
Most fuel efficient economy
Least flammable fuel source
Most expensive of the three
Not as easy to find as the other two sources, especially in the case of a natural disaster
Propane fuel
Clean power source by comparison
Has the longest shelf-life of the three
Makes engines run a little quieter
Cheapest fuel source
Not good in cold weather
Gasoline
Is easily found just about anywhere
Least fuel efficient out of the three fuel types
Highly flammable
Short shelf-life
Despite these pros and cons, all three are usually pretty safe to use as long as you take the proper precautions.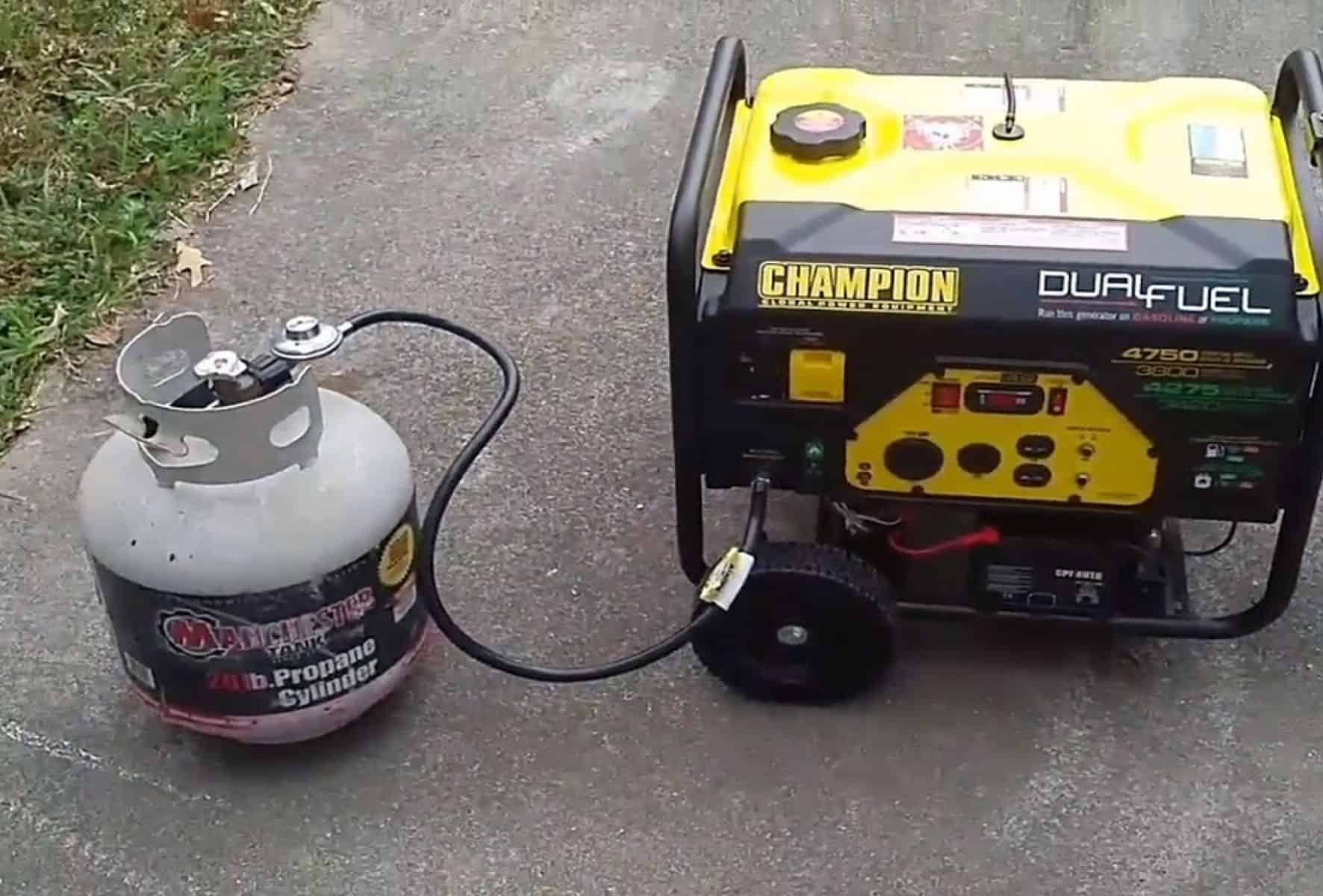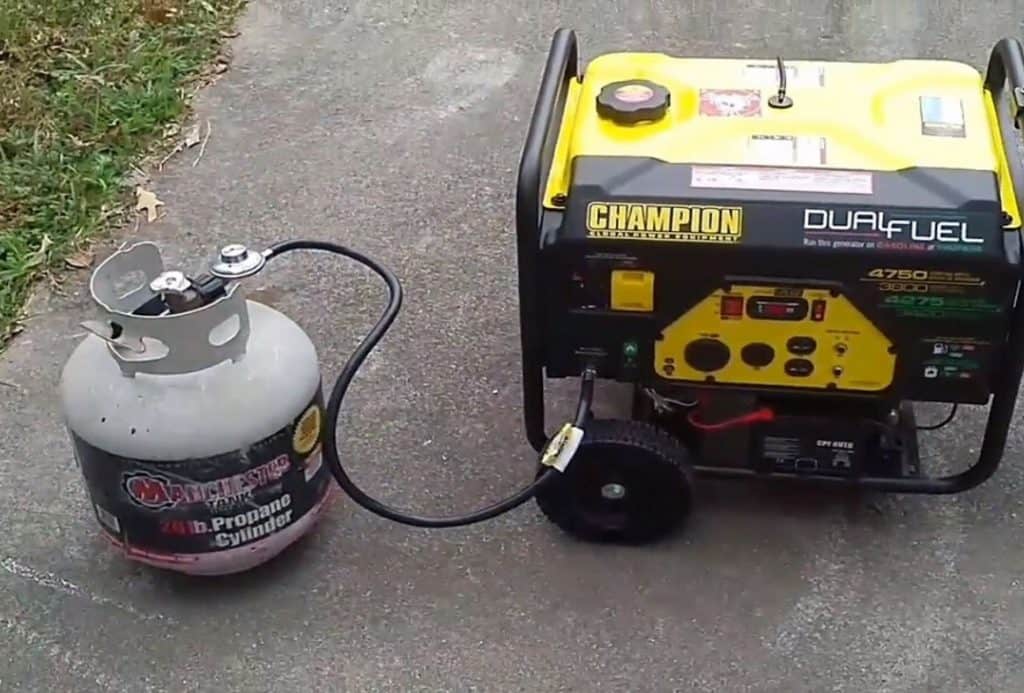 Watts
The generator's wattage is probably the most important feature you want to pay attention to. Watts can be thought of as the amount of power you have. The more power output you have, the more appliances you can run in your RV. The big question is, "how much is enough power to run your recreational vehicle lifestyle?"
An excellent way to determine how many watts you need is by determining how much power you need to run your air conditioner. This is because air conditioners use more power than any other appliance in your RV. To put this into perspective, a 7,000 BTU air conditioning unit would require 1,700 watts to startup. In contrast, a stronger RV air conditioner, say using about 15,000 BTUs, would need 3,500 watts to start up.
There are two wattage measurements you should pay attention to. Appliances have starting watts, and they have running watts. The starting watts is the number of watts needed to start the appliance. This number is always much more than the running watts. You want to make sure that your RV generator has enough watts to start the appliances.
Keep in mind that wattage adds up. This means that your generator needs enough watts to support all of your appliances' combined starting wattage.
Outlets
Generators can come with any number, or combination, of outlets. Of course, the number of outlets you have will determine how many appliances you can run at once. RV generators can come with several outlet types, the most common being a 120-volt standard AC outlet. There can often also be DC outlets, RV-ready outlets, USB ports, and more. You may even have some three-prong twisting/locking outlets. With such a wide variety, make sure you get a model that has outlets to suit your needs.
Warranty
You should not purchase a RV generator that does not have a warranty or does not have a clearly stated warranty. Generators are expensive and should be viewed as an investment and having a good warranty is protection for your investment. Try to get a generator that has at least a one-year manufacturer's warranty.
Noise Rating Level
Some portable generators can be incredibly noisy. If you want peace, the noise level rating to get a suitably quiet RV generator is going to be critical for you. The noise level for RV generators is measured in a unit called A-weighted decibels (dBa). A good dBa rating is 60 or lower. Sixty may be pushing it beyond the level of quiet operation.
To put this into perspective, a whisper is around 25 dBa while the average conversation is about 60 dBa. A vacuum cleaner is approximately 75 dBa. Noise levels tend to be lower if you aren't using the generator at full capacity, so keep that in mind as you look at the noise level rating.
Top RV Generator Reviews
In this section, we've listed nine of the best portable RV generators worthy of our praise. These nine have a wide range of power and features, so you have a good chance of finding the perfect generator for your needs right here.
Honda EU2200i 2200-Watt
Editors Choice
First up, we have the EU2200i by Honda, who produce some of the highest quality and best-researched generators in the world. They also happen to be some of the most expensive. However, they are well worth every dollar and all of their generators come with a 3-year warranty.
This particular model is very small weighing only 47 pounds and measuring 20.2 x 11.4 x 16.7 inches. It's starting watts is 2,200, and rated watts 1,800. To top it off, it's quieter than most of the competition with a noise level ranging from 48-57 dBA.
We do wish that it had a few more outlets (it only has one single 120-volt outlet and one 3-prong locking plug) as well as slightly more running watts for the price, but overall this is an excellent option with a level of quality that can't be beaten.
PROs

Stamped metal recoil insert reduces body damage
Excellent ventilation to reduce the chances of overheating
Quiet operation

CONs

It's expensive
It doesn't have any DC outlets
Bottom-Line: If quality is your number one concern, you can't go wrong with a Honda generator. The EU2200i is one of the quietest RV generators we found and comes with a high level of protection.
Westinghouse iGen2500 RV Inverter Generator
Best Value
This is another compact model that has many similarities with the Honda EU2200i. It weighs only 48 pounds and measures 19.8 x 17.4 x 17.9 inches, so it's easy to handle. It uses gasoline, has a recoil starter, and is also an inverter generator, just like the EU22001.
One thing we like about this option is the higher wattage. It handles up to 2,400 starting watts and 2,200 rated watts. It also has many more outlets so you can run multiple appliances at once.
So why would you choose one over the other? Well, mainly because the Westinghouse is about half the price of the Honda. However, you do sacrifice a few features and a bit of sturdiness/durability with the Westinghouse, so it's a matter of deciding what's more relevant to you.
PROs

Has two USB ports and two 120-volt standard outlets
Efficient fuel consumption
Digital display

CONs

The housing is made from a cheap, molded plastic
Westinghouse isn't known for having good customer service
Bottom-Line: With the iGen2500, you can save money yet still get a high-quality product. You may sacrifice a few features here and there, but all-in-all it's definitely worth the dollars spent.
WEN 56200i 2,000-Watt
Best Generator for Camping
The WEN 56200i is an impressive model that produces just enough power for folks who like to keep things simple. It has 2,000 starting watts and 1,600 running watts, ideal for small air conditioners and one or two other appliances. If you happen to need more power, these small camp generators have multiple models with increasing levels of wattage (as well as rising prices).
There are a generous number of outlets; two 120-volt standard outlets, a USB outlet, and a DC outlet. While this is convenient, it's a bit of a mismatch for the number of watts that the generator provides. As long as you don't have any appliances with high wattage ratings, you should be able to use all the outlets simultaneously.
PROs

It's lightweight, compact, and easy to move around
It has a two-year warranty

CONs

Too many outlets for the power output
It's made of a cheap, molded plastic housing
Bottom-Line: It's convenient to have a small generator for camping that has plenty of outlets, especially a USB port. This will save you the headache of having to switch out a bunch of low power, smaller appliances continually. Plus, since it is an inverter generator your sensitive appliances are protected.
Westinghouse WGen2000
Quietest Generator for RV Charging
This Westinghouse WG2000 is a level up from the iGen500. Built for heavy-duty use, this model features 2,500 starting watts and 2,000 rated watts. It has four 120-volt standard outlets and holds up to four gallons of gas. This provides up to 26 hours of runtime at a 25 percent load.
Our favorite feature of the WG2000 is the steel frame and rolled steel bars that protect the gas tank. These steel bars also allow more than one person to carry it at a time, important since it weighs 91 pounds. This model measures 23.5 x 17.5 x 24 inches. It's not compact, but it will run your appliances like a champ.
PROs

Has a robust and durable steel housing
Comes with a great, 3-year warranty
It has four standard 120-volt outlets

CONs

Doesn't have any DC outlets or USB ports
Recoil-start handle is in an awkward position
It's not an inverter generator
Bottom-Line: A lengthy run time is what sells this model. This RV generator has great fuel efficiency, which means you'll save money in the long run.
Champion 3,100-Watt Portable Inverter RV Generator
Best RV Ready
This is an excellent RV generator for people who need a high level of wattage. With 3,100 starting watts and 2,800 rated watts, you'll be able to power most of the sensitive electronics in your RV, including a fair-sized AC unit. With dimensions of 24.8 x 19.3 x 20.1 inches and a weight of 83 pounds, it's not compact, but we appreciate the fact that it's on high-quality wheels and has a large handle.
This model has a fair amount of outlets. It has two 120-volt standard outlets, an RV-ready outlet, and a 12-volt DC outlet. We like the location of the recoil-start handle, it's located near the control panel on the front, so you don't have to pull in awkward positions to get it started.
The champion 3100, enjoy 8 hours of run time on a 1.6-gallon fuel tank using eco mode (25 percent load). It has a well-thought-out design and is a superb investment with a 3-year warranty.
PROs

Has an RV-ready 3-prong outlet
Has wheels that never go flat
It comes with battery-charging cables
Low oil shutoff

CONs

It's cumbersome
It's loud despite being advertised at 57 dBA
Bottom-Line: If you don't want to have to fumble with adapters, opt for a generator that is RV-ready. This one is well-designed and pretty easy to use, so it's an excellent generator for RV camping.
Champion 3,500-Watt RV-ready Portable RV Generator
Best Generator for Ease of Use
If you thought the last Champion offering was a hot product, you'll fall in love with this one. The Champion 3500 is a real workhorse. It's generally built the same as the Champion 3100 watt generator and has the same warranty. The differences appear in the performance and in a few other minor details.
At 4,000 starting watts and 3,500 running watts, you can power up a high-BTU AC unit with no issues. It still comes with the same amount and type of outlets as the previous models, so you can't run more appliances, but you can run higher-powered appliances with ease. It has a 3.8-gallon fuel tank and when using economy mode can run for up to 12 hours at a 25 percent load.
The real gem here is the wireless remote start. If you don't feel like fumbling with the recoil-start handle (and who does?) press a button on the additional wireless key fob, and your generator starts right up. This makes the extra 12 pounds worth it.
PROs

Wireless remote works up to 80 feet away
Has Cold-Start technology for easy start-up in cold weather
Has a built-in surge protector

CONs

It's very loud, like a vacuum cleaner
Doesn't have a handle for rolling it
Bottom-Line: Since you will most likely be using this model outside due to the high noise levels, it's great that it has a high functioning wireless remote. This lets you control it from the comfort of your RV and is perfect for someone who values convenience.
DuroStar DS4000S Gas-powered Portable Generator
Best Portable Generator on a Budget
If you need a budget option, the DuroStar DS4000S is an excellent choice. Although it's evident that it wasn't built with the most heavy-duty of parts, it still runs exceptionally well for the price. If taken good care of it will last a long time, however for peace of mind, it does come with a 3-year limited warranty.
We love how easy this generator is to startup, starting on the first pull. It has an average run time with around 8 hours at half load. Since it is a budget option, there are a few quality concerns to be expected, but nothing that's a dealbreaker. For example, the handle to pull it with looks sort of like a cane that has been nailed on as an afterthought.
The DuroStar has 4,000 starting watts and 3,300 rated watts to keep your appliances running. It measures 24 x 17 x 17 inches and weighs 94 pounds. The open frame allows two people to be able to pick it up easily, or you can purchase a separate wheel kit that can attach to the steel frame. Overall, if you want to save money, this is an excellent choice because it's going to do precisely what you need it to.
PROs

Starts up quickly and easily
Runs consistently and smoothly
Lasts a long time for a "cheap" generator

CONs

It doesn't have any DC outlets
Oil leaks from the air filter
Bottom-Line: This is a great budget option for someone who needs to save money but still wants a good quality generator. It has a few minor issues, but nothing that will prevent it from performing well.
DuroMax XP4400E Gas-powered Portable Generator
Most Versatile
Here is another budget option that will give you a little more power than the previous DuroStar model. At 4,400 starting watts and 3,500 rated watts, you'll easily be able to power up your appliances in your RV. It has two 120-volt standard outlets and one 240-volt twist-lock outlet.
The measurements are 24 x 17 x 17 inches, and it weighs 94 pounds. It's a beast in size, and although has a reliable power output, also has high noise levels at around 69 dBa.
What sets the DuroMax XP440E apart from other RV generators is the ability to choose between running it at 120 volts only, or at 120 volts and 240 volts simultaneously. This means that it can be used to power international appliances. However, do keep in mind that running both voltages will reduce the output power of each outlet.
PROs

Lots of power at a low price range
Backed by a 3-year warranty

CONs

The handle is not very helpful with mobility
It's deafening
Bottom-Line: Not many generators can run at 240 volts. If you have appliances from other countries, this would be an excellent option for you. Plus you'll save money and still get the quality that you need in a generator.
Champion 3,800-Watt Dual Fuel
Best Heavy Duty Portable Generator for Camping
If you like options, then this is a great choice. This Champion model is the top of the line for the Champion generators for RVs on this list. Not only does it offer superior performance, but it is dual fuel powered, meaning you can use gas or propane to run it. Do keep in mind though that using propane instead of gasoline does lower the starting watts from 4,750 to 4,225, and the rated watts from 3,800 to 3,420. Overall however, this probably won't make too much of a difference.
We do however have a bone to pick with this generator. With this much power, we would like to have seen a few extra outlets, having the same number and type of outlets as previous models. However, we can let this go in lieu of the option to use a recoil-start or the electrical starter.
PROs

It has an "Intelli-Guage" digital information display
The all-wheel housing makes it extremely durable
It can run a 15,000 BTU air conditioner unit with ease
Gas or propane powered

CONs

At 119 pounds, it's cumbersome
Like the previous model, it's extremely loud
Bottom-Line: This is a massive, powerful generator. It's designed for heavy-duty use with some of the most powerful appliances. This may be overkill for most people. However, it's nice to be over-prepared than underprepared.
If you are looking for more information to give you a deeper understanding of how your rig's electrical system works then check out our 101 guide to RV electrical systems.
Last update on 2023-09-30 / Affiliate links / Images from Amazon Product Advertising API