Editors Choice
Escapees RV Club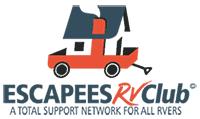 We reviewed the pros and cons of all popular RV clubs spanning the USA and Canada and our ultimate recommendation for the best RV club membership is Escapees.
Their discounts on campgrounds are considerable, and they have a pretty big list of affiliates. They also offer emergency roadside support, and their annual fees are still reasonable.
But the real value comes from their great community and support network. All the experienced veteran campers that make up their membership are most helpful in offering travel advice or maintenance and repair tips.
Even more valuable, their gatherings and social events make Escapees stand out amongst the rest of RV travel clubs. If you have the opportunity to take advantage of their scheduled meet-ups and ongoing education courses, we're sure you will enjoy your membership with Escapees year after year.
Don't forget to check out Xscapers, their younger-aged community for fully-employed members. This new branch of Escapees promises to bring all the perks and fantastic opportunities of membership to younger members that have more rigorous demands and time commitments in their lifestyle than the typical retired camper.
Perks of Having an RV Membership
There are many benefits to being a part of any association with a shared interest and hobbies, and joining an RV club is no exception.
It's nice to have a place to discuss your RVing experiences, whilst other RVers might have great advice about new locations to visit and their favorite campgrounds.
It's also comforting to have a forum to ask questions and get answers from others who have experienced the same problems and dilemmas that you have. This is especially helpful when troubleshooting or fixing broken parts on your recreational vehicle.
If this isn't enough to convince you, then you should also know that many clubs offer discounts on campground fees or even emergency assistance. Most memberships come with access to emergency towing for your recreational vehicle (and even for your non-RV vehicles).
With all of these benefits in mind, let's discuss what you should look for in the best RV clubs.
Here's Everything You Need to Know About RV Clubs:
Reasons to join membership clubs for RVs
Factors to help you choose between clubs
Reviews of some of the best RV clubs
How Can You Find the Best RV Membership Clubs?
It might be tempting to join whichever club has the lowest membership fees, but several other factors should also be considered:
Savings
Instead of looking for the cheapest RV clubs, you should be investigating which clubs offer the most significant savings during your membership. Many clubs offer discounts between 10 percent and 50 percent on camping fees, so if you're using your RV every weekend, you might save more money than you're spending on membership.
Passport America leads the list in this category, offering 50 percent savings at many of its campgrounds across the country.
Thousand Trails also gets a mention here, because their (admittedly expensive) membership includes free stays at any of their luxury campgrounds!
Boondockers Welcome also offers free overnight stays by connecting you with other recreational vehicle owners who are willing to host you in their driveways. You can even get around the annual membership fees if you're ready to host other RVers in your driveway!
Wide Selection
While saving money is obviously a great thing, make sure that these discounts apply to your traveling habits. Even if they boast discounts on thousands of campgrounds, it's a good idea to check if these campgrounds are:
Nearby
Highly rated by other customers
Close to other tourist destinations that interest you
The Good Sam Club boasts more than 2000 affiliated RV parks to take the prize in this benefit category! Passport America and Escapees also have extensive networks of partnered campsites, with about 1450 and 800 locations to choose from respectively.
Kampgrounds of America (KOA) has a wide selection of RV parks, but in addition to their full list, they also have the largest selection of 4-star and 5-star campsites. KOA has been in business the longest, giving them the longest time to assemble their impressive list of quality camping locations.
Community
Of course, you should also consider the non-monetary benefits before making your choice. RV clubs can provide valuable advice, so you may want to choose the club with the largest following, or the oldest with the most experienced members. Your savings won't be much of a comfort if your club community doesn't help you with any urgent RVing issues.
Escapees stand out in this category with a vibrant, helpful membership. Their activities, which include ongoing education opportunities as well as on-the-road job opportunities, are a benefit that really can't be measured with a price tag.
Honorable mentions must go to Boondockers Welcome and Harvest Hosts. While they don't have such a passionate membership community, these two clubs are designed for host-sharing and cost-free opportunities to connect with other RV owners.
Boondockers Welcome will see you parking your RV for free in another camper's driveway, or even hosting other RVers in your own driveway. Harvest Hosts lets you camp in farms and vineyards adding a little agricultural tourism to your camping experience.
Reliable Support
Reliability is also an important factor. Good clubs will offer access to towing services and perhaps even other on-site repair professionals. If your battery dies in the middle of your trip, or your hot water heater stops working, then you will appreciate the handyman that your RV club can send out to fix your problems.
The Good Sam Club wins this category, offering several customizable plans for trip insurance that will fit your family's travel needs and ensure a worry-free vacation.
Best Camping Experiences
Unless you're fully enjoying your camping experiences, you're going to question the value of buying a membership. With that in mind, it's important to find one that'll show you a good time when you're out with your RV.
Some clubs offer meet-ups and other ways to get to know RVers like yourself. Other clubs try to make sure that every camping experience is a great one, providing top levels of comfort.
Another way to make your camping unique and enjoyable is to complement your journey with an agricultural tourism experience. Whether you're a gourmet chef at home or a wine aficionado, you'll return from every camping trip with Harvest Hosts with new and exciting memories.
Honorable mentions in this category are Escapees, with their calendar of events, and Thousand Trails, with their luxury glamping campgrounds.
Taking a Look at the Best RV Membership Clubs
We checked out seven of the best RV clubs to join so that we could showcase them here for you. Read on to find out which one offers the best discounts and assistance so that you can choose the best membership for your travel style.
Passport America
Best Discount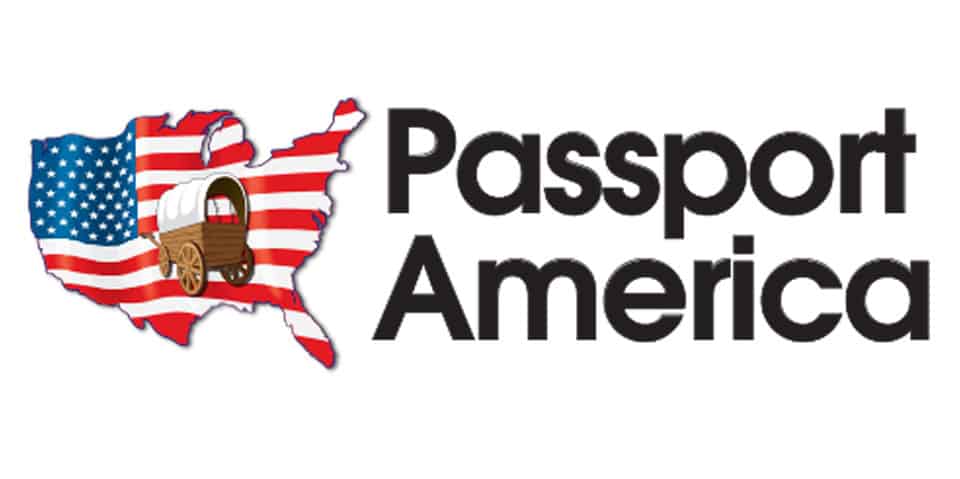 Membership with Passport America offers a stunning 50 percent off when visiting their associated campgrounds. And with more than 1450 campgrounds across the country on their list, you are pretty likely to find one near you or your vacation destination.
With this impressive Passport America discount of 50 percent membership pays for itself in no more than three to four nights. If you're a regular RV camper, taking monthly or bi-weekly trips, your savings could be considerable. They also have a customer referral program for additional savings.
Passport America also has a mobile app to help you book reservations and find your campsite without any hassle, even if arriving after hours.
Be wary however, many of these parks have limitations on this discount. Some of them do not accept the discounted rate on holidays, and some don't accept it even on weekends. The discount campground list is also full of some of the less-maintained and poorly-managed sites.
But since the Passport America website and campground list don't allow customer reviews, it's difficult to know whether other campers truly find this membership valuable.
PROs

Low membership cost: $44 annual fee
Significant discounts: 50 percent
Extensive list of discount camping club partners: Over 1450 campgrounds

CONs

Discount not always applicable on weekends/holidays
No available member reviews for associate campgrounds
Bottom-Line: If you are a high-frequency camper and looking for incredible savings during the off-season, Passport America provides the best discount in the industry.
Escapees RV Club
Editors Choice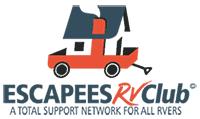 Escapees offer a different kind of club. Rather than focusing on discounts and services, they have created a total support network with a vibrant sense of community. They have many scheduled meetings at various participating campgrounds with meet-ups including many networking opportunities.
Some of the great resources that Escapees offer include educational materials, ongoing training courses, a job-posting board for full-time RVers so that members can offer each other work while on the road, mail forwarding, and even discounts on memberships in other RV clubs!
As far as direct services go, Escapees might be somewhat limited. They do provide roadside assistance and discounts at many camping grounds, although their list is not as extensive as other clubs' associations. Their list does, however, include 18 five-star RV parks that membership will get you access to for between 15 – 50% off.
Younger members, and members who are still working full-time, might be initially disappointed with Escapees. This club tends to focus on retired members and members who go RV camping during the workweek. As such, it might be difficult for working-age RVers to get involved and stay involved.
However, Escapees has recently started a new subset of their club called Xscapers targeted toward this younger and fully-employed demographic, featuring all of the same perks and benefits.
PROs

Low membership cost: $49.95 annual fee
On-the-road job posting boards
Activities calendar

CONs

Inconveniently-scheduled opportunities for members with full-time jobs
Not particularly youth-oriented
Bottom-Line: Escapees is your best choice if you are retired and ready to hit the road to meet many other like-minded RV travelers and friends.
Good Sam Club
Largest Campground Membership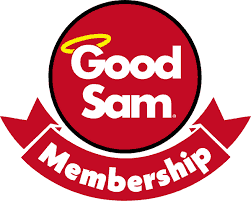 The Good Sam RV Club is perhaps the most popular on this list with more than 2 million members enjoying its benefits. They also have an affiliate campground list with more than 2000 participating campgrounds on it.
But this club offers much more than just discounts. With membership, you get access to their trip-planning apps, which can help you calculate distances and driving times, fuel costs, and finding rest stops along the way.
Good Sam also offers various trip insurance plans to cover you and your family in case of unforeseen troubles. These insurance plans could be as simple as towing, and roadside assistance or they can even help your family continue on their trip without you if your attention is required to fix up your RV.
The only problem with a club this size is that you will encounter a lot of disagreement among the members. This has led to unreliable ratings at many of their affiliate parks, with some locations getting swamped with bad ratings, and other sites receiving fake, flattering reviews.
PROs

2 million members
Trip planning tools and apps
Membership includes trip insurance options

CONs

10% discount is less than other camping clubs offer
Unreliable campground ratings
Bottom-Line: Good Sam is an excellent club for campers who already know their favorite campgrounds and want peace of mind from their club's insurance and emergency assistance.
Boondockers Welcome
Best Dry Camping Experience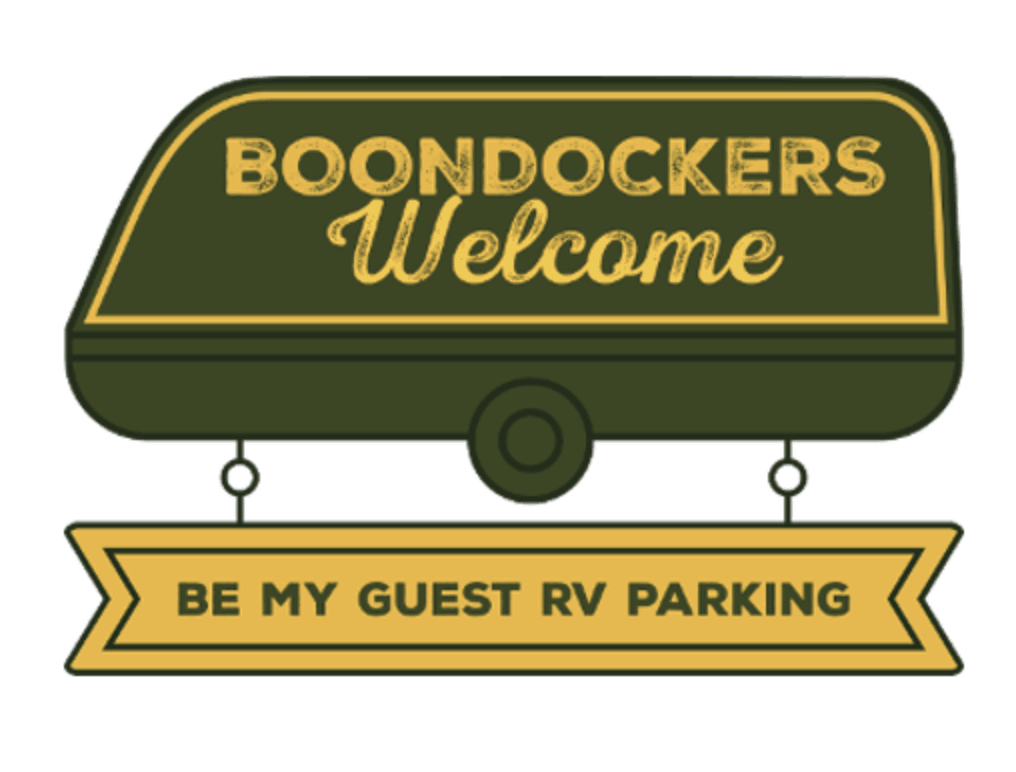 Boondockers Welcome is a unique kind of club. Unlike other clubs on this list, they are an RV parking network. You might think of them as an AirBNB service, where members offer to host one another.
As far as service goes, you'll be dealing with other club members rather than hospitality professionals. Of course, sometimes, your experience will be great, sometimes less than you hoped for, but in general, you can count on other RV travelers to treat you right.
Since you're staying with other RV owners who live locally in your vacation destination, you can be sure to get the best local tourism advice, including restaurants and sightseeing. Your hosts might even be able to help you with maintenance or troubleshooting if you have any issues, especially for easy-to-solve problems like jumpstarting your battery.
If you offer to host RV travelers on your home property, you can sometimes take advantage of the Boondockers Welcome network without paying the annual membership fees.
Now, because you are dry camping (or boondocking), you may have to sacrifice some of the amenities that you're accustomed to enjoying in your RV. Your hosts may not provide electrical or water hook-ups. However, you're getting to stay overnight for free in exciting new locations!
PROs

Super economical: $50 per year
Local advice and expertise
Opportunities to host and meet other club campers

CONs

Not a discount membership club
Mainly dry camp opportunities only
Bottom-Line: Boondockers Welcome is an exciting experience and a great (free!) way to enjoy the hospitality of other RV owners if you enjoy occasional dry camping.
Harvest Hosts
Best for Specialized Locations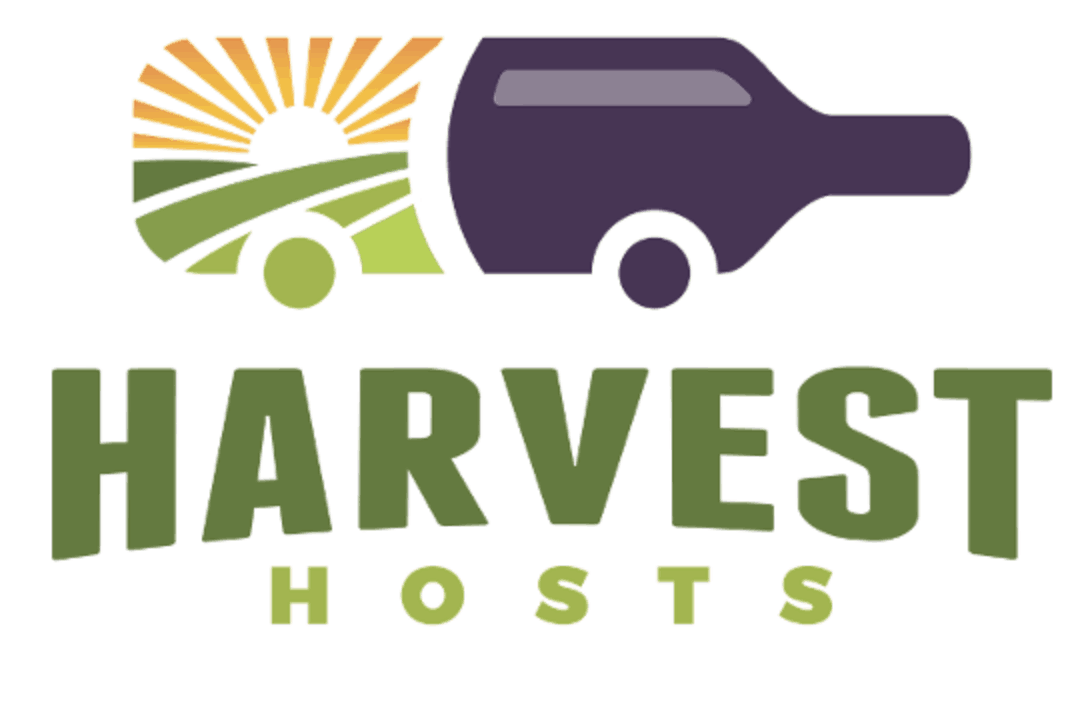 This is also a private property hosting network, but for specialized locations. Unlike Boondockers Welcome, who will park you in the driveway at their homes, Harvest Hosts will park you in their farms, vineyards, or open land.
If you love agricultural tourism, this is the club for you. It boasts exciting and unique locations around the country where you can explore and investigate the local produce industries and see what farmers and vintners like to grow in other parts of America.
This club is also specifically appealing to wine tasters and connoisseurs. If the RV lifestyle and wine discovery are two of your greatest loves, then you will certainly want a membership with Harvest Hosts where you can combine your favorite pastimes. Best of all: camping at these locations is free.
Because of the limited number of farmers and vintners who love to host RVers, this club's affiliate list is much smaller than other camping clubs boast. Moreover, these camping locations are only for boondocking and rarely offer electrical or water hookups.
This is also not a service or discount club, so they don't offer much in the way of roadside assistance or other discounts.
PROs

Economical: $99 per year membership
Free camping
Exciting locations include farms and vineyards
List grown to over 2300 sites

CONs

No other services or discounts offered
Unlikely to have water, electrical or sewer hook up
Kampgrounds of America (KOA)
Largest Network of Top Quality Sites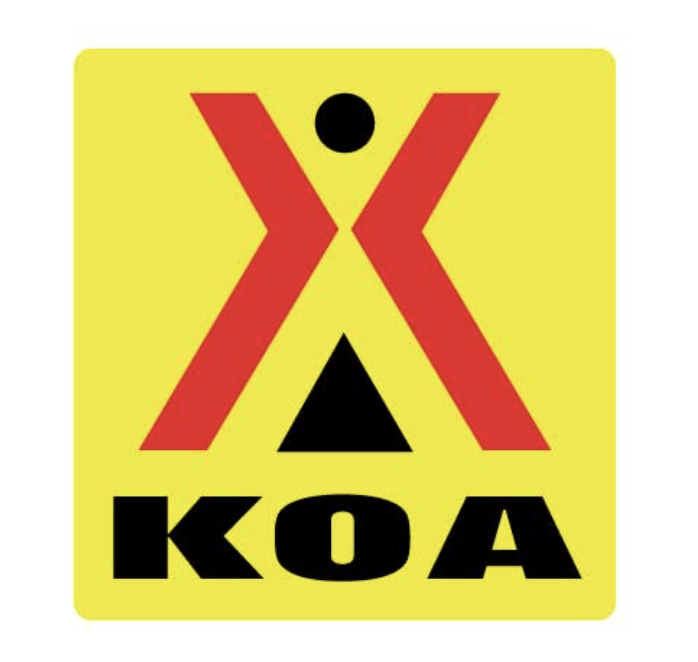 Kampgrounds of America (KOA) has the largest and oldest network of campground sites in the United States. With this kind of history and popularity, you know that you're connected to quality service and top-rated locations.
The KOA Value Kard is more like a discount membership for a nationwide chain than an RV club. Since KOA manages so many of the most popular campgrounds around the country, their Value Kard is probably going to give you the best discounts for the best locations.
Some people choose to avoid KOA participating campgrounds because of the prices they charge, but those prices indicate the quality service and well-maintained grounds they have. You are almost sure to find the electrical and water hookups you need, as well as camping alongside other seasoned RV veterans and experts.
The annual cost of membership is pretty reasonable and if you are a regular camper, or even use your RV for about four weekends each year, you're sure to make up the cost of membership in your savings.
PROs

Great value: $33 per year
KOA campgrounds are consistently rated the best
Discounts apply at the most reserved spots and times of year

CONs

10% discount is not as valuable as many other clubs offer
Discounts only at KOA campgrounds
Bottom-Line: If you only camp at 4- or 5-star campgrounds with full service and hookups, then you'll genuinely enjoy the savings that come with a KOA Value Kard.
Thousand Trails
Free Camping All Year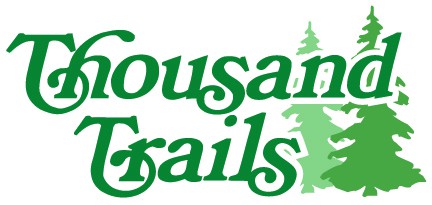 This club might be the most expensive on the list, but it's also the only one that offers free camping without restrictions at all of its branded luxury campgrounds and resorts.
If you are looking for the best, most relaxing experience in your RV, then look no further than one of the Thousand Trails campsites. They helped define the term "glamping," or glamour camping. You will find well-kept grounds at every site, as well as all of the electrical and water hookups you need. You might even find other on-site recreational activities and utilities at many of their campsites.
It's a particular comfort to know that you won't pay any hidden reservation charges, connection fees, or have to worry about any other lodging budgeting when you have a membership with Thousand Trails. Even if you go camping during peak season or in the holidays, your stay with them will be covered by your annual membership fees.
Because their campgrounds are so spacious and luxurious, it's understandable that their selection is limited. They maintain the highest standards at their sites, and that means less choice. Make sure you find a campground at your destination that suits your needs and make a reservation before hitting the road.
PROs

Membership offers free year-round camping
Campgrounds are luxury-level experiences

CONs

More expensive annual membership: $615
Limited selection of campgrounds
Bottom-Line: If you are a "glamper" and regularly stay at the most comfortable luxury campsites, then a membership with Thousand Trails will be worth the price for annual fees.
Conclusion
We hope you benefitted from our carefully reviewed comparisons in this article. We're sure that you will enjoy membership with any of the RV clubs on this list, especially with Escapees or their up-and-coming Xscapers community.
As always, feel free to add comments or questions below to share your experiences with other readers on our website. If you have friends and family interested in RVing, please forward and share this article with them, and happy discount camping!