How to Choose the Right Solar Panels for an RV
Despite being rather simple to use these days, RV solar power systems can be a little intimidating to the uninitiated. (For more information you can check out our RV electrical systems guide here.
The truth is it helps to know a little bit about them in order to not only feel comfortable relying on solar 40 miles from the nearest gas station but to pick the best one for your experience and off-grid solar power needs.

So, let's start by taking a closer look at some RV solar panels for campers and go over how they work, what features you need to consider, and lastly, how to calculate your energy needs. Then, we'll get to the good stuff.
Solar Panels for RV – How to They Work?
Solar panel kits utilize RV solar panels with solar cells. The solar cells absorb solar energy and convert it into electricity (or as we like to call it, "free power").
That's the general concept. In more explicit terms, photons from the sun, which contain natural kinetic energy, continuously hit the silicon wafer of a solar panel. When they do, electrons are released, creating electricity that then flows through the panel's cells.
The process takes place millions of times each day. However, RV portable solar panels don't store electricity; they merely generate it and act as a power source.
The DC flows from the cells through the PV wires and to the inverter, where it's converted to usable Alternating Current power. Then, it runs through the charge controller, which stabilizes the voltage before reaching the battery where it's stored for use.
RV Solar Panel Kits – Key Features
While there are a few RV solar panel kits that stand out ahead of the rest, the right one for you will largely depend on your RV and specific energy needs.
That said, all good RV and camper van solar panel kits have some common key features: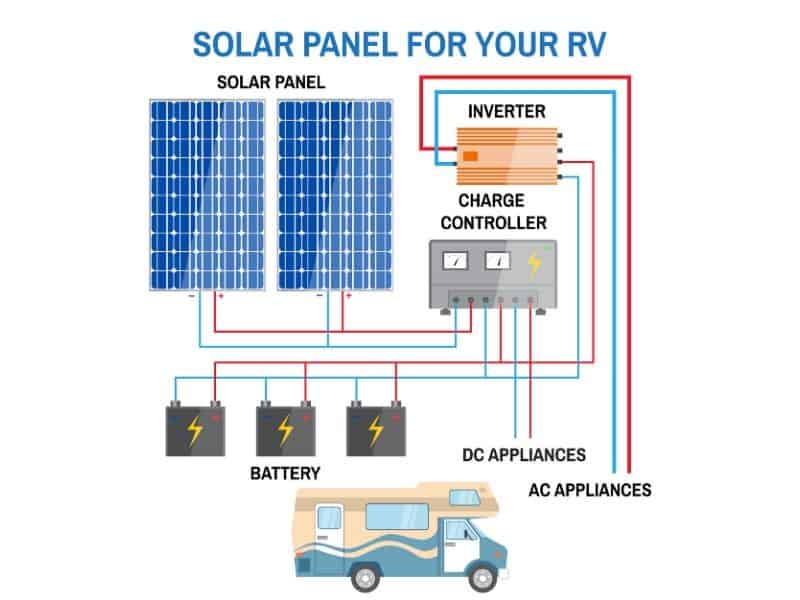 Solar Panel
The solar panel is the meat and potatoes of any kit. It allows you to capture the sun's energy, and with higher-quality RV solar panels, you can even do so on days when the sunlight is less than ideal.
As mentioned, each panel is made up of solar cells. Solar cells are made of silicon. The purer the silicon used and the better the construction of the cells, the higher the output and the greater the conversion efficiency of the panel.
When shopping for RV solar panels, you'll find two types of portable solar panels to choose from. Monocrystalline solar panels are constructed of purified silicon, making them more efficient and effective. Polycrystalline solar panels, on the other hand, have less pure crystalline structures, making them less efficient but also less costly.
If you're living or camping in an area with limited sunlight, you'll want to go with a higher-grade monocrystalline solar panel. However, if you're in the desert southwest or somewhere with plenty of sunshine, a polycrystalline panel will likely serve you just fine.
Whichever type you choose, keep in mind it will need ample roof space on your RV. Unless you only plan on setting it up on the ground next to your battery bank while camped for a day or two at a sweet little spot, you'll need enough roof space to mount it without being obstructed by the air conditioner, antenna, or other hardware.
Charge Controller
The energy produced by RV solar panels isn't steady. Instead, it surges and ebbs and flows, which can damage or affect the performance of the battery.
A charge controller solves this dilemma. This device, which is included in every solar kit, uses a process known as pulse width modulation to automatically regulate the electric pulses being sent from the solar cells to the battery.
By receiving a steady supply of electricity, the battery is able to charge more quickly and maintain its charge level.
RV Battery
Batteries aren't included in most RV solar kits, but they're a critical component of RV solar setups and worth discussing. Without a battery, you can't store the solar power generated from your portable solar panel for later use.
Most RV batteries are 12 volts and rated for 100-ampere hours (Ah). A 100Ah battery can supply you with 100 amps of power for one hour, 10 amps for 10 hours, one amp for 100 hours, and so on.
However, you should never run your battery all the way down to the point where it's fully discharged. Doing so can result in permanent damage.
Ideally, your solar panel installation should provide enough power to recharge your batteries and keep them above 50 percent. If not, you may need a generator or an electrical hookup to keep them level.
Power Inverter
Batteries only store energy as direct current (DC). However, most appliances and devices run on alternating current (AC). A power inverter is needed to convert the power from DC to AC.
Power inverters are rated in watts. A 1500W inverter should be just fine for operating a TV, laptop, lamp, coffee maker, and other small appliances. Still, you'll need a more powerful inverter to run an air conditioner, refrigerator, and other large appliances.
Just remember, the more power you use, the sooner your battery or batteries will need to be recharged.
Power Consumption
To maximize the efficiency of your RV solar setup and make sure you have enough power to stay comfortable in the great outdoors, you need to calculate how much solar power you need.
Remember, the number of ampere-hours (Ah) your batteries can store will determine how much power you'll be able to use. Meanwhile, the output of your RV with solar panels will determine how quickly you'll be able to recharge your batteries.
How to Calculate Your Solar Power Needs
Calculating your power needs comes down to a little math. Let's start with the conversions.
To convert AC to DC, simply multiply by ten: 10A AC = 100A DC.
Conversely, to convert from DC to AC, you divide by ten: 100A DC = 10A AC.
Why is this important? Well, let's say your TV runs at 110V AC, which most do, and is rated for 90W. Knowing this, we can calculate it draws around 0.81A AC. When we convert it to DC, it draws 8.1A DC.
So, using this example, watching an hour of TV would use 8.1Ah. If you have a 100Ah battery, you would be able to watch around 12 hours of TV before depleting the battery.
However, since you should keep your battery above 50 percent, you would in reality only be able to watch around six hours of TV per charge.
By considering the devices and appliances you plan on using, thinking about how many hours per day you plan on using them and taking note of how many amps they draw, you'll be able t put together a plan of how much solar power you'll need.
Not only will you need an RV solar panel kit capable of producing the solar power you need, but you'll need enough batteries to store it and genuinely enjoy living off-grid.
The Best RV Solar Kit – The Reviews
WindyNation 100W Solar Panel Kit
Best Camping Solar Panels Kit
WindyNation 100 Watt Solar Panel Kit with 1500W VertaMax Power Inverter for RV, Boat, Off-Grid 12 Volt Battery Systems
Complete kit includes: (1pc) 100 Watt Polycrystalline Solar Panel, 30-amp P30L Solar Charge Controller w/ LCD display and user adjustable settings, 40 feet of UL Listed 12 AWG Solar Cable, all necessary wiring connectors, all necessary solar mounting hardware + 1500 Watt (3000 Watt surge) VertaMax DC to AC Power Inverter w/ 2pcs of 3 ft. 2AWG Battery Cables (for connecting the inverter to a 12V battery)
Solar charging will provide on average 400 Watt Hours (Wh) or 35 Amp hours of charge per day (depends on sunlight availability)
Designed for RVs, cabins, homes, boats, back-up and remote power use
Bundle and save! Purchase all the components together and save time and money!
Perfect kit for a off-grid 12 volt battery system. 1500 Watt VertaMax Inverter provides plenty of AC power to run your household appliances!
If you're new to solar or RVing in general, the WindyNation 100-watt Solar system is a great option to keep on your shortlist. Not only is it surprisingly affordable, but it provides everything needed to begin harnessing free and clean solar energy.
With this kit, WindyNation delivers an efficient, reliable solution for portable off-grid solar power. It's centered around a 100-watt solar polycrystalline panel. On an average day, it can produce up to 33-ampere hours and 350-watt hours, which is more than enough to charge an iPhone and power a TV.
The included charge controller is also pretty well-made and allows you to monitor the ampere-hours, amperage, voltage, and load draw. While you can leave the settings as is, experienced users can also fine-tune them for better charging and increased efficiency. This is a nice touch.
Best of all, it can handle up to three 12 volts 100-watt solar panels, so you can add RV solar panels as needed without buying another kit. Of course, you'll need extra batteries then as well.
Speaking of batteries, the charge controller is compatible with any deep-cycle battery. However, unlike many other RV solar kits, this WindyNation kit already comes with a deep-cycle 12 volts 100Ah AGM BattaMax battery. You also get MC4 connectors, a 40-foot solar cable, and mounting hardware, so you're all set from the get-go.
The panel itself could use a beefier frame to better stand up to the elements, but unless you're driving down the interstate in a hailstorm with it attached to the roof, it should be just fine.
PROs

Includes everything needed to go off-grid
Simple, straightforward installation
Can easily add additional RV solar panels and batteries

CONs

Panel could be more durable
Bottom-Line: This WindyNation is excellent as a camper van solar panels kit and includes everything needed to help power your off-grid adventures.
Renogy 100W Solar Panels for RV
Best Solar Panels for RV
Renogy 100 Watt Eclipse Monocrystalline Charge 20A Voyager Waterproof Controller Solar Suitcase, 100W-Waterproof
Compatible with gel, sealed, Lithium, and flooded batteries.
Excellent performance in low-light environments, alligator clips for ease of connection. German-made Solar cells. Protective casing. The low-voltage system avoids electric shock hazards.
Adjustable, Corrosion-Resistant aluminum stand as well as a heavy duty handle and latches for longevity. Optimium Operating Current – 5. 68A
Negative-ground charge controller for compatibility with your RV, boat, trailer, etc. Charge controller with LCD display and fully adjustable PARAMETER settings. 20A built-in 5-stage Solar charge controller provides overcharge protection, reducing Fire risk.
Panels: 25-year power output: 5 Year/95% efficiency rate, 10 Year/90% efficiency rate, 25-year/80% efficiency rate 3-year material and workmanship.
It doesn't come with a battery, but the Renogy 100W RV Solar Kit checks every other box, making it our top pick for today's best overall RV solar kit.
What other boxes does it check? Good question. Let's start with arguably the most critical feature, the solar panel.
The Renogy's offering is a monocrystalline solar panel for higher energy production and efficiency. It also performs better in warm weather, making it ideal for summer camping trips.
For added durability, the panel is protected by iron-tempered glass. It can handle wind, rain, hail, and snow loads. Meanwhile, the MC4 connectors are IP67 waterproof, and the junction box is IP65 waterproof, so they'll withstand the heaviest of downpours.
The only downfall of the Renogy 100W RV Solar Panel are the thin plastic blocks the panel's legs are mounted to. So, despite the durability of the rest of the panel's construction and the other kit components, it's smart to mount it to the roof of your RV or at least pull it from the ground when the conditions get rough.
PROs

Durable, weather-resistant design
Great solar power delivery and efficiency
Great warranty

CONs
Bottom-Line: The Renogy 100W RV Solar Kit is well-made and designed to deliver top performance, making it our top pick for the best all-around RV solar kit on the market today
WindyNation 400W Solar Kit
Best Multi-Panel RV Solar Kit
WindyNation Complete 400 Watt Solar Panel Kit with 1500 Watt VertaMax Power Inverter RV, Boat, for Off-Grid 12 Volt Battery
Complete kit includes: (4pcs) 100 Watt Polycrystalline Solar Panel, 30-amp P30L Solar Charge Controller (w/ LCD Display and user adjustable settings), 40 feet of UL Listed 12 AWG Solar Cable, connectors for wiring, solar mounting hardware + 1500 Watt (3000 Watt surge) VertaMax DC to AC Power Inverter, 2 pcs of 2 AWG Battery Cables for connecting the inverter to a 12V battery
Solar charging will provide on average 1600 Watt Hours (Wh) or 135 Amp hours of charge per day (depends on sunlight availability)
Designed for RVs, cabins, homes, boats, back-up and remote power use
Bundle and save! Purchase all the components together and save time and money!
Perfect kit for a off-grid 12 volt battery system. 1500 Watt VertaMax Inverter provides plenty of AC power to run your household appliances!
If you like the complete kit approach of the WindyNation 100W kit above but yearn for a little more power, the WindyNation 400W Solar Kit might be just what you're after.
It comes with not one but four polycrystalline 100W RV solar panels, providing a total power output of 400 watts. Realistically, you can expect it to produce 150-ampere hours and 1,700-watt hours a day. However, as is always the case with solar power, this depends on the weather.
To help you harness so much energy, the kit also comes with four deep-cycle 100Ah AGM batteries, providing you with a whopping 400-ampere hours of power storage. That's enough to run the AC, refrigerator, microwave, and even a few devices.
In addition to its array of RV solar panels and batteries, the kit also includes a P30L charge controller with an LCD screen, which makes it easy to view and adjust the load draw. However, its pulse width modulation unit does this automatically to avoid overloads and short circuits.
Of course, it comes with an inverter, MC4 connectors, solar cable, battery connection cables, and mounting hardware, as well.
Like the WindyNation 100W Kit, the solar panels could be more durable. However, the only real drawback is the inverter. It works okay, but an upgrade to a better-quality inverter is recommended.
PROs

Lots of solar panels and power
Batteries included
Great value

CONs
Bottom-Line: The WindyNation 400W Solar system is an excellent solution for any camper with high energy demands. It comes with everything you need to cook, relax, and stay cool and connected in the great outdoors.
HQST 100W 12V Solar Kit
Best 24V RV Solar Kit
HQST 100 Watt 12 Volt Polycrystalline Solar Panel Kit with 30A Common Positive-Ground PWM LCD Display Charge Controller, 20FT 12AWG Cable, Z Bracket
Used in various off-grid applications that include 12 and 24 volts arrays, water pumping systems, signaling systems and other off-grid pplications. Great for off-grid applications, such as RVs, trailers, boats, sheds, and cabins.
Comes with a 100W 12V polycrystalline solar panel, a 30A PWM LCD charge controller, a pair of 20 ft 12 AWG daptor cables, a set of Z-brackets, and all necessary mounting hardware. With the 30A PWM LCD charge controller, you can expand your system up to a maximum of 400W.
HQST provides complete after-sales service, easy-to-reach customer support.
HQST 100W polycrystalline high module conversion efficiency. Bypass diodes minimize power drop caused by shade and ensure excellent performance in low-light environments. Pre-drilled holes on the back of the panel allow for fast mounting and securing. IP65 rated junction box provides complete protection against environmental particles and low pressure water jets.
12V/24V system voltages are automatically recognized. With temperature compensation employed, charging parameters can be automatically adjusted. A wide range of load working modes facilitate the product's application to different types of load. All of the controlling parameters can be reset flexibly to satisfy the user's particular needs.
The HQST 100 watts 12V Solar system is another excellent option for those seeking a little more power than the average kit provides. It's fit for both 12-volt and 24-volt arrays and suitable for several off-grid applications. Whether you want to power a water pump, outdoor lights, or your RV, this kit can do it.
It has an average output of 500-watt hours and 40-ampere hours a day, which is slightly higher than the output of many other solar panel kit setups. From 50 percent, you can expect to fully charge a 100Ah battery in about five hours. If you're camping in a sunny locale, you can add an extra battery and double your charging time to run the AC, lights, and more.
Since it's a kit, it also comes with a charge controller, which is pulse width modulated and automatically recognizes either 12V or 24V system voltage. The charge controller is also rated for 400 watts, so you can string several RV solar panels and batteries together before needing to invest in another.
A power inverter is also included so that you can power any appliances or electronic devices. However, like many other RV solar kits, the HQST doesn't come with a battery or battery cables, so you'll have to purchase them separately. It's also a bit bulky and heavy, so while it does come with mounting brackets, the bulk makes installation a little difficult.
PROs

Great for 12V and 24V setups
Good power delivery
High-quality, weather-resistant construction

CONs

A little heavy and bulky
Battery not included
Bottom-Line: The HQST 100 watts 12V Solar Kit is a well-made, versatile solution for a variety of campers and 12V or 24V setups.
Newpowa 100W 12V Polycrystalline Solar Panel Kit
Most Durable RV Solar Kit
Newpowa 100W 12V Monocrystalline Foldable Portable Solar Panel Kit Suitcase with Charge Controller and Battery Cable for Off Grid RV,Camping,Boat
Lightweight But Durable:This Ultra 100W solar panel kit is only 12lbs, easy to carry out.The corrosion-resistant aluminum bracket and frame make the solar module more durable.
High-efficiency:The solar panel is made of high performance Mono cells encapsulated in EVA (ethylene-vinyl-acetate)
Versatile:Common applications includes RV, camper, SUV, marine,, remote farm, disaster relief, etc.
Package include:100W foldable solar panel,10A PWM charge controller,A pair of battery cable
Warranty: 1 year workmanship warranty
The Newpowa 100 watts 12V Solar Panel Kit features a 36-cell polycrystalline solar panel that's suitable for charging any deep-cycle 12V battery. While it won't charge it as fast as a monocrystalline panel, it will do the job.
Since it's a kit, it also comes with a charge controller and power inverter, so you can power your RV appliances and devices without buying anything else other than a battery.
Where the Newpowa shines is in its construction and durability. The cells are encapsulated in a protective EVA material, and the back of the panel is covered with TPT for added protection as well.
Unfortunately, this added protection equals a little more weight. While you can still set it up on the ground for use as needed, we recommend taking the "set it and forget it" approach.
PROs

Solid materials and construction
Easy to install
Good bang for the buck

CONs

Heavier than some other solar kits
Bottom-Line: The Newpowa 100W 12V Solar Panel Kit is a durable, budget-friendly RV solar kit and a good option if you're looking for reliable, weather-resistant off-grid power.
Allpowers SunPower RV Solar Panel
Best RV Solar Panels
ALLPOWERS Solar Panel 100W 18V 12V Bendable Flexible Solar Charger SunPower Solar Module with MC4 for RV, Boat, Cabin, Tent, Car, Trailer, 12v Battery or Any Other Irregular Surface
☀️SunPower Solar Cell:The SunPower cell is made from US, up to 23.5% efficiency, while most monocrystalline panels in the the market is 17%-19%, you will get greater power efficiency even though the panel is no larger than a traditional model
☀️Supior Durability: The water resistant semi-flexible solar SunPower panel is far more durable than traditional glass and aluminum models; The junction box is sealed and waterproof
☀️Bendable Panel: The plastic back sheet can be curved to a maximum 30 degree arc and mounted on an RV, boat, cabin, tent, car, trucks, trailers or any other irregular surface
☀️Powerful and Lightweight: This solar panel packs 100W of power, but it only weighs a mere 4.7lbs(2.15kg), making it easier to transport, hang and remove; Unique frameless design and four metal reinforced mounting holes for easy installation
☀️What you get: 100W bendable SunPower solar panel, instruction manual, 18-month guarantee and friendly customer service
The Allpowers SunPower RV Solar Panel is unlike every other on this list. While other solar panels are flat and rigid, the SunPower is bendable. In fact, it can bend up to 30 degrees, making it super versatile and ideal for installation on rounded roofs and angled or uneven surfaces.
Thanks to its frameless design, it's also incredibly lightweight and portable. Only weighing 4.7 pounds, it weighs ¼ as much as most other solar panels, including the Newpowa above. This means you can pack it up and take it with you virtually anywhere off the beaten path.
Despite its flexible, lightweight design, the Allpowers SunPower RV Solar Panel is also quite durable. It can withstand up to 113 pounds per square foot of snow load and one-inch hail impacts at over 50 mph. If that weren't impressive enough, the flexible solar panels are also monocrystalline, so it's incredibly efficient and performs well in a wide variety of conditions.
Unfortunately, while the panel is excellent, that's pretty much all you get. If you don't already have a charge controller, battery, and cables, you'll need to purchase each of these separately in order to get the panel up and running.
PROs

Versatile bendable design
Extremely lightweight and portable
Highly-efficient

CONs

Charge controller, cables, and battery not included
Bottom-Line: The Allpowers SunPower RV Solar Panel Kit is super lightweight and has a unique bendable design, making it a versatile and highly portable solar camping solution.
Go Power! GP-PSK-120 120W Portable Folding Solar Kit
Most Powerful RV Solar Kit
Did we save the best for last? If your definition of the best RVing solar kit is the one with the most power, then yes, we certainly did.
As its name suggests, this Go Power! RV Solar Kit can produce a hefty amount of energy, making it great for powering multiple devices and living the on-the-go camper lifestyle.
Unlike other solar kits, its panel can generate up to 120 watts of power each and every hour. This is more than enough to comfortably live the RV lifestyle for days, weeks, and even months on end.
In addition to its powerful panel, the kit also features a built-in 10-ampere charge controller, XLR-style solar plug adapter, and a carrying case, so all you have to do is buy a battery and you're good to go.
If we had to nitpick, the only thing we weren't impressed with was the side latches that are supposed to keep the panel folded and closed. They're just a little flimsy, especially for frequent off-grid use.
PROs

Generates 120 watts of electricity
Able to power multiple devices
Portable foldable design

CONs

Latches are a little flimsy
Bottom-Line: The Go Power! GP-PSK-120 120W Portable Folding Solar Kit is both portable and powerful, earning it two thumbs up in the two categories that matter most for off-grid living and RVing.
Our final thoughts the Best Solar Panels for RV
We hope you enjoyed our guide, and now have a fuller understanding of which solar panels are best for you. Remember to always start by calculating the amount of power you'll need from solar energy, and then use that to help narrow down the best RV solar system for your rig.
Last update on 2021-05-05 / Affiliate links / Images from Amazon Product Advertising API