What is a Composting Toilet?
It's evident that a composting toilet is a toilet, but you may be wondering what makes this toilet so special. It's hugely different from a regular toilet. It's one of those products that's hit-or-miss for many people. Here's why.
A composting toilet doesn't use water.
Now that the wheels are turning in your head, we'll explain further. A composting toilet is a toilet that, instead of flushing, uses the power of biodegradable organic matter to decompose your human waste. It's very similar to a composter that you would use in a garden. We'll get into more specific information further along in the article, but to put you at ease about it, we'll tell you that it doesn't smell bad, and it's possibly one of the cleanest toilets you can get.
Parts of a Composting Toilet
A composting toilet consists of five main parts
The outer shell (the toilet)
The drum
The liquids container
The ventilation port
The access/door or a finishing drawer of some type
The first part is the outer shell – the part you see and sit on. The other four parts are inside of the shell. The biggest part is the drum. This is where the human waste and organic matter are contained as they are degrading. The drum has a handle that sticks outside of the shell – you use this for spinning the mixer in the drum after you go. This ensures that it's mixed well with the composting matter.
Another part is a liquids container for the urine. Not all composting toilets will have a separate container for liquids. However, if they do, it helps the composting process to go faster.
Pro-Tip: To speed up the decomposition of the waste use recycled toilet paper. Speaking to the various manufacturers they have found recycled rather than regular toilet paper decomposes faster.
Next is the ventilation system. In a healthy person, urine is about 95 percent water. The ventilation system is not for the liquid waste container if the toilet has one. This ventilation system evaporates the water from the waste that's inside the drum. However, if there is no separate liquid waste container, the ventilation system will ideally evaporate the water part of the urine. The dryer the waste, the better it will compost.
The final part of a composting toilet is the access door/finishing drawer. This will vary across toilet models. This is an area or container that you use to discard of the composted material when it's ready.
How a Composting Toilet Works
A composting toilet's waste disposal process is quite simple. To start, you must add compost material (to the toilet's drum before you use the toilet. This compost material contains microorganisms that use an aerobic process to decompose the waste. You can get compost material at your local lawn and garden or hardware store.
Make sure you follow the instructions on the package to prepare the compost material. Once it's ready, pour it into the toilet until it reaches the level of the handle that's used to turn the drum. After this, the toilet will be ready for use.
Pro-Tip: Rather than buy store-bought cover material, you can make your own by creating a mix of ~60% organic materials such as wood shavings, coconut coir or chopped straw + ~40% peat moss.
When you use the toilet, turn the handle to spin the drum. That's all you must do until it's time to dispose of the composted material in the toilet. There is no "set" amount of time between disposal – dispose when there is resistance to turning the handle or if you begin to smell an "ammonia-like" odor.
The compost that comes out is usually free of harmful pathogens and can be used as fertilizer (as long as it's not against local regulations). If the waste needs to be decomposed longer, you can buy a separate container to empty the toilet contents so that it can decompose longer before it's used as fertilizer.
Benefits of a Composting Toilet
Little to no odor.
Great for boondocking.
Saves your RV fresh water due to no water usage.
Free fertilizer if you're a gardener/farmer.
Lasts a long time compared to other types of toilets.
No plumbing or installation required.
Self-contained system.
One of the most environmentally friendly toilets on the market
Disadvantages of a Composting Toilet
Requires regular upkeep to ensure a thriving environment for bacteria.
Regular purchasing of compost material.
Not safe for curious pets.
Shopping for a Composting Toilet: Key Features to Look For
While all composting toilets essentially work the same way, they may have different quality levels and various features that set them apart from each other. Taking a closer look at these differences can help you choose the perfect composting toilet for your RV. Here are some of the more critical points to consider.
Capacity
The size of the drum in the composting toilet will determine how often you must dispose of the composted material in the drum. Don't mistake this for the size of the toilet – toilets come in many different sizes and weights, and the drums don't always correlate with them. Make sure you check the user's manual or with the manufacturer for drum sizes.
In many cases, the drum will be listed with a recommended number of uses before needing to be disposed of (average is 60-80). You can divide this by how many people will be using the toilet to get an idea of how often the drum will need to be emptied.
The rate of decomposition also affects the capacity. Some composting toilets are heated, and that can help speed up the rate of decomposition, which helps to free up space in the drum.
Size
Composting toilets don't usually take up a lot of space, but as mentioned above, sizes can vary. Make sure you measure the space that you have in your RV so that the toilet you choose will fit. There are also compact models for smaller RVs. Keep in mind that compact models will also have a compact drum.
Another feature that will contribute to the size would be an elongated seat. Elongated seats are usually more comfortable, but some RV bathrooms aren't big enough for an elongated seat. You also want to factor in a few inches for the side handle because it will stick out, and you need to be able to rotate it.
Electric vs. Nonelectric Composting Toilets
A composting toilet can be electric or non-electric. Electric composting toilets have a built-in fan to help the ventilation process to be more efficient. Some may also have heated fans or heaters built into them speed the decomposition.
For an RV, you'll want to look for a DC-powered toilet unless you have a converter near your toilet. Electric composting toilets usually have somewhere between 80 to 150 watts, so they are low-consumption items, and you probably won't have to worry about them going over your wattage limit.
Non-electric composting toilets won't have fans or heaters. They'll simply be containers with a handle.
Urine-Diverting Toilets
There are two types of composting toilets: internal composting toilets and urine-diverting toilets. Urine-diverting toilets are a technological advance in composting toilets. It allows the urine to be collected separately from solids. This is great because sometimes there may be too much liquid to evaporate promptly, even with the heating and ventilation.
If you're unlucky enough for that to happen to you, the solids and compost material will be too wet. They won't compost properly, and this can cause odor. That means you'll have to empty the toilet more often, and you'll be emptying smelly, unhealthy, and unsightly solid waste. This defeats the purpose of composting toilets.
Urine-diverting toilets require everyone to sit while urinating – even men. The urine would be collected at the front of the toilet in the urine tank while the solids will be collected at the back. You would have to empty the liquid container rather often, but the solids won't need to be emptied for at least a couple of months. The downside to urine-diverting toilets? They're more expensive than the non-diverting version.
Installation
Depending on your level of DIY skills, you should consider how you intend to install a composting toilet in your rig. Then double-check against the product in question. Most are relatively easy to install, but it's always good to check.
Now that you know everything there is to know about composting toilets, we'll introduce six of the best toilets on the market, as well as our pick for the best composting toilet for RV owners.
Best Composting Toilets Reviews
Nature's Head Composting RV Toilet
Best RV Composting Toilet
This Nature's Head composting toilet is one of the best out there. It's strong, durable, visually pleasing (as pleasing as an RV toilet can be), and versatile. To make it even better, Nature's Head is an American company, and all its products are manufactured in the United States.
The Nature's Head composting toilet was designed for marine use, so it's virtually indestructible. All the hardware is high-grade stainless steel, and the spider handle can be mounted on either side of the unit. It's lightweight, self-contained, and completely portable. It has a fan, so that runs from 12V DC power. The RV toilet uses less than one watt of energy to run (it may be a little more to start), so you'll hardly notice the power consumption.
PROs

Extremely high-quality.
Spider handle design
Easy to assemble/disassemble.
Very low power consumption.
Long, five-year warranty.

CONs

Mixer doesn't mix compost at corners and edges of the drum.
Urine container is tiny.
Bottom-Line: If you're looking for something that's built to last, this Nature's Head composting toilet fits the bill.
Sun-Mar Excel Non-Electric Self-Contained Composting RV Toilet
Best RV Composting RV Toilet without Electricity
Sun-Mar's offering is highly developed composting toilets. It's made from thick, high-quality fiberglass material. It has a unique Bio-drum that collects both liquid and solid waste. The handle, which folds up under the seat, so it doesn't take up any space, is connected to the Bio-drum instead of a mixer. The handle spins the Bio-drum so that 100 percent of the waste is mixed with the composting matter.
Another great feature is the finishing tray. With the flip of a switch near the finishing tray, the Bio-drum can spin backward, which allows the compost to dump into the finishing tray. This empties the Bio-drum, so it is ready for more while allowing the old matter to decompose completely.
Everything about this product seems perfect, but there is one concern we have. While a folding, stow-away handle is a great idea; having it right in the front up under the seat seems like a messy idea. If anything "drips", the handle might catch it.
PROs

Bio-drum mixes 100 percent of contents.
Lengthy, five-year warranty.
Toilet comes in two colors: white or bone.
Toilet comes fully assembled out of the box.

CONs

Handle is right up under the front of the toilet seat.
Overflow drain is set a little too high.
Bottom-Line: If you need a high-capacity RV composting toilet, this is an excellent choice due to the finishing tray.
Separett Villa 9215 Composting RV Toilet
Best RV Composting Toilet for AC/DC Systems
The Separett Villa is a urine-diverting model that has a simple and modern appearance. It's manufactured from a high-gloss polypropylene material that is recyclable. It's a compact model, measuring about 18.5 x 23 x 27.75 inches. It probably will be more comfortable if placed on a platform.
What sets the Villa 9215 apart from the competition is the fact that it can be AC- or DC-powered. The product comes with both an AC adapter as well as battery cables, so you have everything you need inside the box. It comes fully assembled and only needs to be taken apart somewhat if you want to add the ventilation extender.
There is one catch with this model – it doesn't technically compost in the unit. The urine must be drained to an external container, and the solid waste must be disposed of in a composter using composting bags (ten are included in the box). It takes a little extra effort, but it's a good quality product.
PROs

Comes with an extender cap for the vent tube.
Comes fully assembled.
Choice of AC or DC power.

CONs

Short battery cables (6.5 feet).
Doesn't compost inside of the unit.
Bottom-Line: If you don't mind a little extra work to get an excellent quality product, then the Separett Villa 3215 is a great choice.
Sun-Mar GTG Composting RV Toilet
Best RV Toilet for a Budget
The best composting toilets are expensive by nature, but this Sun-Mar model is considered a bargain. It's a portable, compact, product that doesn't have any extra bells and whistles about it. Sometimes you just need a toilet, and with the GTG, that's what you get.
The product is a urine-diverting model. It's probably the easiest model you'll ever have to install because you only need to screw in the mounting brackets (which are optional) and install the vent hose. The two tanks come out easily through the seat area, so there is no hassle with emptying it.
Keep in mind that this is a very compact unit, so you may have to empty it more frequently than others. It's made of durable fiberglass material, and it's lightweight for easy transporting. With an economy model, there will be some features that you sacrifice. One of those is the fact that there is no crank handle. You can alleviate this issue by simply adding a scoop of absorbent carbon material (e.g. peat moss or coconut coir) each time you go.
PROs

Budget-friendly.
Very easy installation.
Portable.

CONs

Standard Crank handle? Nope.
Must reach inside to remove tanks.
Bottom-Line: This made the "best" list because it does exactly what it's designed to do at a bargain price without any complicated features or accessories.
Air Head Composting RV Toilet
Best RV Composting Toilet for Mods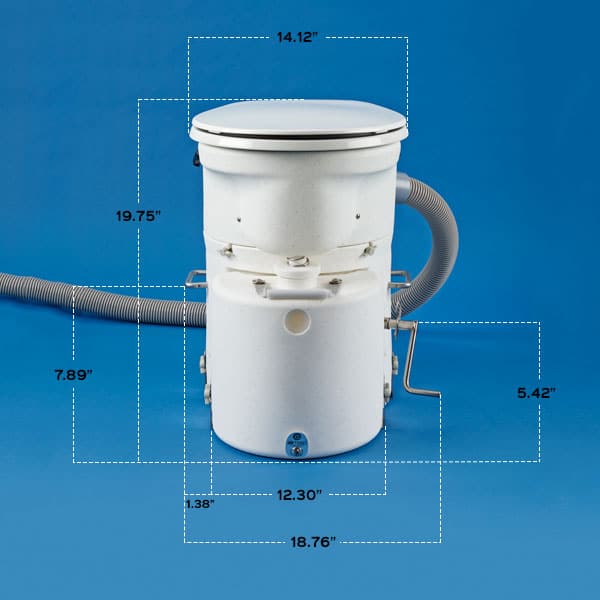 The Air Head RV composting toilet is a uniquely designed product that is urine-diverting. It's a very compact model that measures 19 "L x 17 "W x 19.5 "H. What sets this model apart is that it's customizable when you order one. There are two different lids to choose from: household or marine. Similarly, you can select a flat-back or hull shaped tank. You can choose which side you want your crank handle on. You can also choose between a right-angle or straight fan housing.
The bowl is designed so that when you go, your solid waste sits in the bowl until you "flush" it down (no water). However, the bowl seems a bit shallow to do this. If you're careful about certain "parts" not dangling in the bowl, it's a great, compact product for any RV.
PROs

Compact and lightweight.
Stainless steel mixer and handles.
Long, five-year warranty.
Customize it to your liking.

CONs

Shallow bowl.
Mixer doesn't fully mix compost.
Bottom-Line: This is a great composting toilet for people who have a minimal amount of space in their RV bathroom.
Last update on 2021-06-25 / Affiliate links / Images from Amazon Product Advertising API