Editors Choice
Eccotemp FVI12-LP
It was unanimous that the Eccotemp FVI12-LPour should be crowned best RV tankless water heater on this list. From top to bottom, few can compete with the Eccotemp FVI12-LP in the most critical of categories.
In terms of quality of life, the Eccotemp FVI12-LP offers the best flow rate on our list at 4.0 GPM, which is more than enough to run multiple water fixtures and appliances at one time. This is a decent RV water heater for a small home, so it provides more than enough hot water for a recreational vehicle.
Beyond the sheer amount of hot water it can provide, it also has one of the hottest burner units, generating up to 80,000 BTUs. That said, the Eccotemp FVI12-LP has a somewhat high minimum throughput rate of 0.65 GPM. While not too high for most purposes, it does mean you may not be able to get hot water when using a sink at lower flows. Still, for everything you do get, the price sits on the lower end, especially compared to some of the more expensive units.
Bottom Line: With the highest flow rate on our list and one of the higher BTU outputs, the Eccotemp FVI12-LP dominates most of the competition in sheer capacity alone. While you cannot get low flows of hot water, you likely will not even notice considering how much you save.
Hot water on Demand for RVs: Go Tankless Today
Getting out on the open road in an RV can be a freeing experience, until you remember about the hot showers and creature comforts you left back at home. However, hot water on demand for RV travel can be a creature comfort you can take with you.Of course, figuring out which is the right model for any particular RV owner can be a difficult task. This is why we have put together a list of the nine best tankless hot water heaters for RVs – it's time to ditch your RV hot water storage tank for a more efficient model.
Looking for the Best Tankless Water Heater for Your RV?
What features to look out for
Reviews of nine of the top RV tankless water heaters
Our unbiased view on the best tankless water heater for RV use

How to Choose the Right Tankless RV Water Heater
Type
Just because an RV hot water system is tankless does not mean they are all the same type, which is an especially relevant concern for an RV where space is at a premium. While our review is focused primarily on complete tankless RV water heater systems, there are a couple of different types to be aware of.
While you're more than welcome to test out both kinds of systems to see which suits you the best, we feel it essential to present both to you and highlight why one is better than the other. The two main types of RV tankless water heaters on the market are 'the point of use model' and the tankless option.
Point of Use
From an outward perspective, a point of use model might seem like the better choice for an RV instant hot water heater. Its small size allows it to conveniently fit pretty much anywhere without having to worry about complicated installation or taking up valuable room that could be used for other things.
The main issue with a point of use system in your RV is that it often has such a low flow rate that it cannot keep up with the demands of heavier use. On top of that, point of use hot water heaters are meant to heat water for a single fixture.
This means you would need multiple point of use water heaters to satisfy the different water sources in an RV– likely at least two, one for the shower and one for the hot water tap at the sink. Another potential issue comes from the fact that point of use water heaters are almost always electric, limiting the fueling options.
Tankless
Our entire list focuses on the traditional tankless water heater for RVs for a couple of reasons, not least is ease. For one, you generally only need a single unit to run all of the water sources in an RV.
That said, you do still need to be mindful of how much hot water each fixture in the RV uses, or else you will run into the same issue in an RV that you would in a house. Namely, a tankless water heater can only produce as much hot water on demand as the gallons per minute it can provide.
However, tank free water heaters generally have a much higher total throughput compared to point of use models. On top of that, the water fixtures in an RV usually do not have larger flow rates than those in houses, especially older homes.
The big downfall of a traditional RV water heater is the fact that it costs significantly more than the point of use models. In fact, a tankless heater is often the most expensive way of heating water, though they do pay for themselves in the long run by their efficiency.
Further Reading: If you want to know the basics of how your RVs plumbing system works, then you can check out our in-depth guide here.
How it Runs
Fuel
A traditional tankless water heater can use a couple of different power sources, though you might notice that all of the options we chose on this list use at least one consistent fuel source: propane. The reason for this is that most RVs use propane in some capacity, and it is often an easier way of fueling an RV water heater on the road.
That said, propane is not necessarily the best way to fuel a motorhome tankless water heater in every situation. On top of that, if you have a more powerful RV power system, you might not want to have to worry about the inconveniences of a propane fuel system.
Electricity and propane are the two main types of power source used to heat water on demand in an RV. We feel that the best RV tankless water heaters can use either fuel source, but you might feel differently depending on varying factors.
Electric
Though all of the options presented include other fuel sources, there are traditional tank free hot water heaters that run exclusively on electricity. That said, this fuel source works best as the only option when the heater is installed in a traditional house.
Being on the road, you may not always have the ability to plug your unit into an outlet and may not want to use the electricity meant for your RV on a water heater. On the other hand, RV tankless water heaters are reasonably efficient, so it is not a massive drain on your limited electricity unless you use it all the time.
To be fair, the main benefit of a tankless electric water heater is the fact that its efficiency means powering it with electricity is the least expensive option. Of course, the electricity of an RV almost always comes from batteries, which means you need a reliable way to charge your batteries.
While this may be a standard concern for RVs in general, it becomes a much bigger issue when powering an electric tankless water heater. The usual solution, if you choose to go this route, is to purchase a dedicated battery for the heater to meet all your energy needs. However, this makes an already expensive product that much more costly.
Further Reading: If you are having issues with your current unit, then check out our guide to maintaining & troubleshooting water heaters.
Propane
Because RVs often already use propane for a host of other purposes, namely cooking and heating, it makes sense to get an RV propane tankless hot water heater that will use one of the more common RV fuel sources.
However, propane can present issues, especially when it comes to changing out the fuel once a propane tank runs dry. While there is no shortage of places to purchase propane tanks, this is a more expensive, continuous charge for this fuel source.
On top of that, you also have to plan a little since you may not necessarily come across a retailer selling propane tanks when you run out. Of course, this is not functionally different from having an electric fuel source and is solved much in the same way: purchase a dedicated propane tank for your hot water heater.
It is worth noting that despite being a combustible fuel source, propane burns clean, so you do not have to worry about any environmental concerns. On the other hand, a RV propane tankless water heater needs to exhaust spent fuel, so installation will either have to be externally placed out of the RV or include installed venting.
Things to Look for
Flow Rate
This is by far one of the most critical "specs" to consider when purchasing a tankless water heater. It largely determines how many appliances and fixtures you can use at one time. That said, the throughput changes depending on the temperature of the inlet water. The change is due to liquids expanding or contracting.
This means that there is no single water flow rate you can use to make this determination. Instead, you must rely on a list of throughputs. This can make figuring out which is the right tankless RV hot water heater a bit more complicated.
Colder water will reduce the flow rate, as compared to water that starts at a warmer temperature. This may not be as big a concern for a hot water heater installed in a home. It does however become more relevant for RVs, where the starting temperature o can change within a few hours' drive.
This means that in colder weather, the throughput of a water heater can be reduced to that of a single shower. If you have a large vehicle and expect to use many water fixtures at once, chances are you should pay more for a larger flow rate.
Heat
While the flow rate impacts how much hot water you get at any one time, another critical factor in determining the rate and temperature of the water is the heating capacity. For an RV on demand propane water heater, this measurement is given in BTUs which stands for British Thermal Units.
You may have seen this rating used for gas grills or other propane-fueled products where it may not actually present an accurate reflection of performance, but for hot water heaters, it provides a useful reference. The more BTUs a hot water heater puts out, the quicker it will heat water on demand.
Keep in mind, this may not determine the maximum temperature of the heater, with many other factors playing into that as well. For example, a model with fewer BTUs can achieve the same temperatures as one with more BTUs if it uses a condensing design.
Still, the amount of heat a water heater can generate determines the throughput more than anything else outside of the outlet.
The Best RV Tankless Water Heater Reviews
Camplux 5L 1.32 GPM Portable Outdoor Tankless Propane Water Heater
Best Tankless Camper Water Heater
This is one of the more protected models on our list, with protections for both low and high flow capacities as well as for hot water pressure. The Camplux also protects against the flame going out, dry combusting, or overheating.
Camplux does not specialize exclusively in water heaters, but they do concentrate on heating products in general, primarily on propane-fueled products. It is also worth noting that Campflux focuses on outdoor living products, which makes it well-suited for RVs.
Even better, the focus on outdoor living is highlighted by the compact profile and weight of this model at only 14 pounds. The only real issue is that you cannot use this heater for drinking water, and it has one of the lower flows we reviewed at only 1.32 gallons per minute.
PROs

Has a low pressure startup of only 3.0 psi
More portable than most
Has numerous protections

CONs

Not for drinking water
Has a low flow
Bottom-Line: The Camplux is one of the less expensive options that we came across, and one of the more portable too. With a focus on outdoor living the low flow rate may be forgiven, especially if you use the included shower head.
Girard 1GWHAF Tankless Water Heater
Most Energy Efficient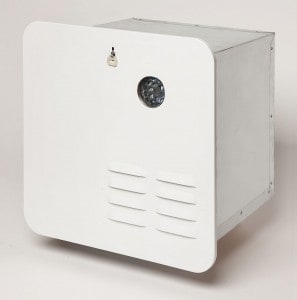 This is one of the few products we reviewed that come with a dual burner system. While many models advertise the ability to control the water temperature, the 1GWHAF backs this up with a 27,000 BTU burner as well as a 34,000 BTU burner.
Through some combination of the two, you are pretty much guaranteed to get the water temperature how you want it. Even better than that, the 1GWHAF will also provide plenty of savings over the long haul with one of the best efficiencies around at 90-percent.
While Girard may not be known for water heaters, in particular, most RV owners will however recognize it as a specialist in the RV accessory market. This provides Girard insight into some of the long-term issues that RV owners will have with their water heater, and with this knowledge focus on convenience.
On the other hand, the 1GWHAF is larger than many of the other models on our list and requires a more involved installation. On top of that, this tankless unit seems to suffer a wide range of potential issues and requires particular care to keep in good working order.
PROs

Has dual burners
Has a high maximum efficiency of 90-percent
Easy to adjust

CONs

A more involved installation
Is a more expensive water heater
Bottom-Line: Thanks to the solid controls and dual burner system the Girard 1GWHAF is a great unit for those who have specific preferences. Its high initial price and involved installation may turn some off, but the long term savings are worth the investment.
Girard 2GWHAM On-Demand Tankless Water Heater
Quietest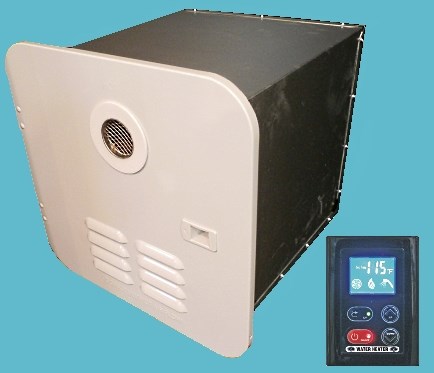 The 2GWHAM features a brushless motor that is both quieter and more durable than brushed motors. The 42,000 BTU burner rating is not one of the higher on our list, but it is more than enough to get water heated up to 120-degrees fahrenheit.
Hearing of the issues customers had with their earlier offering, the 1GWHAF we reviewed above, Girard went back to the drawing board to provide an upgraded model. The 2GWHAM takes all of the great things about the older model and improves upon them with modern innovation.
A great example of this is in the controls. Knobs are no longer used and instead work from a digital control panel. This provides unparalleled control over the water temperature as compared to most of the other options we found.
Aside from the fact that the 2GWHAM is a bit more expensive than most, the control panel can be a bit finicky.
PROs

Has a brushless motor
Puts out 42,000 BTUs
Has a control panel

CONs

Is a more expensive heater unit
Has iffy processing
Bottom-Line: The Girard 2GWHAM has plenty of BTUs to get the job done, even if they are not anywhere near the highest on our list. The control panel can be a bit finicky, but it offers some of the easiest and best custom settings we came across, albeit at a higher cost.
PrecisionTemp RV-550 Tankless Water Heater
Best Wall Vented
This tankless unit puts out 55,000 BTUs, which allows for plenty of hot water, but this option also takes into consideration energy efficiency as well. This is noted via the VariFlame technology which automatically adjusts the burner heat based on the inflow water temperature.
PrecisionTemp is one of the few companies on our list that not only specializes in tankless heaters but focuses primarily on the RV market too. This company has a thorough understanding of what an RV water heater should be, and they provide just that.
A great example of this is the power venting system, which removes the need for fluting the exhaust as it is pushed through the side front panel instead. While this is a larger unit, this side venting system means that installation is not nearly as intensive as with other large models.
PROs

Puts out 55,000 BTUs
Has side venting
Has VariFlame technology control system

CONs

Is expensive
Can get too hot
Bottom-Line: The PrecisionTemp offers a hassle-free option that controls the heat for you. On top of that, it is also one of the better stainless steel venting heaters we came across, though it does come with a pretty hefty price tag.
Eccotemp FVI12-LP Liquid Propane Tankless Water Heater
Best RV Tankless Hot Water Heater
When it comes to RV water heaters, few can match the FVI12-LP where it really matters. This includes the throughput, with the FVI12-LP topping the list having the largest maximum rate we reviewed at 4.0 GPM.
Eccotemp may not specialize in heaters for RVs explicitly, but they do focus on the water heater market in general. This provides the company with a wealth of expertise to offer and a broader range of solutions for your RV hot water needs than most other companies can provide.
Part of the reason that the FVI12-LP can maintain such a high rate is due to it having one of the hotter burners on this list, which can put out 80,000 BTUs. What makes this high heat output even more impressive is that the FVI12-LP also has reliable controls to prevent overheating. The only thing to be said against it is that other options might better suit lower levels of requirements.
PROs

Puts out 80,000 BTUs
Has a throughput of 4.0 GPM
Has solid controls

CONs

Meant for indoor use
Has a high minimum throughput
Bottom-Line: With a more than reasonable price tag and some of the best specs we came across, it is hard to argue against the FVI12-LP. The installation is a bit more involved, and the minimum throughput a tad high, but that is more than worth the reliability it offers.
Eccotemp L10 2.6 GPM Portable Tankless Water Heater
Most Compact
Eccotemp makes another appearance on our list with this extremely portable and easy to install model. That said, you should not expect the L10 to falter in its performance just because Eccotemp made it for a smaller vehicle.
For example the burner unit, which puts out 74,500 British Thermal Unit, is far more than its throughput needs. The maximum flow of 3.0 GPM is more than enough for the smaller vehicle target market the L10 suits but still decent for a larger RV.
The Eccotemp L10 has numerous auto-shutoff controls, both timed and for various capacities which provides the unit with reliable efficiency. The only issue with this is that a mixed valve system can occasionally cause an automatic shutoff due to low water pressure and customer service has been found to be lacking in respect to this.
PROs

Puts out 74,500 BTUs
Has a decent flow of 3.0 GPM
Has numerous protections

CONs

Difficult customer service
Has water pressure issues
Bottom-Line: The Eccotemp L10 provides an excellent budget option for smaller RVs or even larger ones with less water usage. The 3.0 maximum flow combined with the 74,500 BTU burners is excellent, so long as you do not use mixed valves.
Excel Tankless Water Heater
Best Ventless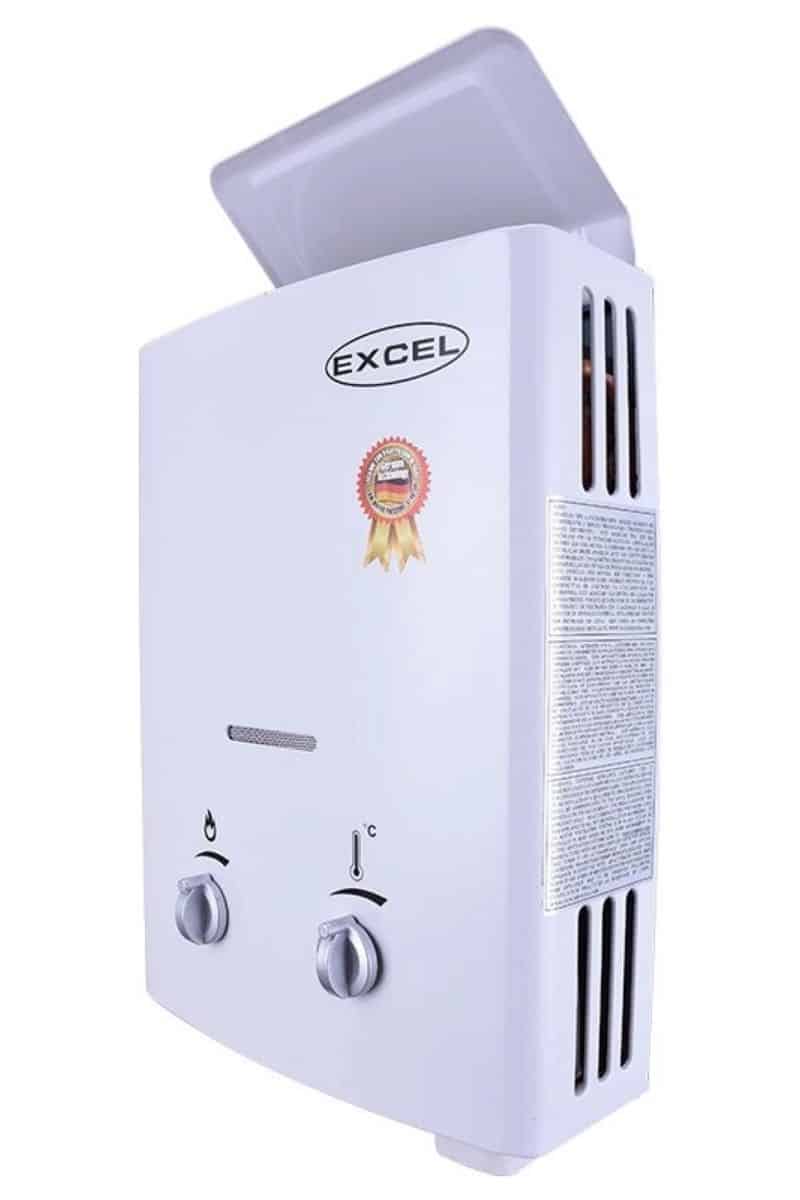 Easily the most significant benefit this product offers is it's vent free system, making it the only one of its kind on our list. Not only does it not require venting, but the Excel also fills a much smaller space than most other models, and can still be installed inside.
Excel specializes in tankless water heaters, though they seem to place more focus on home heater systems than those made for RVs. That said, their foray into this field sees them taking care of some of the more detrimental issues an RV water heater can have.
The vent-free system might serve well for convenience, but unfortunately it also generates additional condensation, leading to an increase in humidity inside your RV. The Excel also has one of the lower throughputs at 1.6 GPM, which may not be enough for a heartier hot shower.
PROs

Puts out 38,000 BTU
Does not require venting
Compact design

CONs

Has a low flow of 1.6 gallons of hot water per minute
Generates additional humidity
Bottom-Line: The Excel presents as one of the smoother units to install with its compact size and vent free system removing much of the hassle other units pose. That said, the additional condensation may not work as well for RVs in humid climates.
EZ 202 Tankless Portable Water Heater
Hottest
The EZ 202 comes with the hottest burners on our list at 84,000 BTUs, and none of the overheating issues that some of the other hotter models occasionally have. Even better, the EZ 202 also comes with the second-best throughput we found at 3.2, and with a reasonable price tag as well.
As the name implies, EZ Tankless specializes exclusively in tankless water heaters. On top of that, the company also makes it a point to offer both home and portable models, so you should have no issue finding one perfect for your needs.
The 84-percent efficiency of the EZ 202 is not the best we found but still meets the higher end range of standards. The biggest issue with the EZ 202 is that the top vents do not allow for easy fluting, so you have to install it in a particular way.
PROs

Puts out 84,000 BTU
Has an 84-percent efficiency
Has a decent flow of 3.2 GPM

CONs

Has more involved installation
Has pressure issues
Bottom-Line: The EZ 202 almost captured our best RV tankless water heater award with the hottest burner and second-largest flow on our list. The efficiency is also pretty good, but the fixed vents make installation a bit more complicated than most.
Marey GA10LP Power 10L 3.1 GPM Propane Tankless Water Heater
Best Budget
Another model in the running for our best RV on demand water heater award, the Marey GA10LP puts out plenty of heat at 80,000 BTUs, and with a decent throughput of 3.1 GPM.
Marey is one of the older and more experienced companies that we reviewed while also specializing in tankless water heaters. That said, the company does focus more on water heater systems for the home than for RVs, but still produces solid competitive tankless RV water heaters.
The Marey has an 87-percent efficiency, good for the second-best on our list. Though, it is fair to note that efficiency can fluctuate to as low as 54-percent, which becomes barely passable.
PROs

Has a throughput of 3.1 GPM
Easy to install
Puts out 80,000 BTU
Has an 87-percent maximum efficiency

CONs

Provides less control
Has a lower minimal efficiency
Bottom-Line: The Marey is one of the less expensive options that achieves the required specs for RV travel. At 80,000 BTUs, 3.1 flow, and an 87-percent maximum efficiency, this might be the best budget product on our list.
Last update on 2023-09-30 / Affiliate links / Images from Amazon Product Advertising API