How to Choose the Best RV Deep Cycle Battery for You
RV house batteries may look a lot like car or starter batteries, but they're quite different. While car batteries, or a starting battery, is designed to provide a single large charge to start a vehicle, RV batteries offer a longer, more consistent electric current to power onboard appliances and electronics.
From coffee machines and microwave ovens to TVs, phone chargers, and everything in between, recreational vehicle batteries can be used to power virtually everything in your rig and any electronics you may want to take with you on the road.
Known as deep cycle batteries, they provide a stable source of power for off-grid living, camping, and exploration.

Why You Need an RV Battery
RV Deep cycle batteries are great for powering your RV appliances and electronics off-grid. If you're at a campground or park with hookups, they can also provide you with a backup power supply should a bad storm hit and knock the power out.
Since these products are designed for repeated charging and discharging, they're also excellent for storing solar energy, making them excellent companions for solar panels. Some are even dual-purpose, allowing them to both start your RV and provide long-lasting deep cycle power.
RV batteries can pretty much do it all. Having one will allow you to keep you and your family comfortable wherever your adventures take you.
Types of RV Batteries
As you know, similar to marine batteries, all RV batteries are deep cycle. However, there are a few different types of deep cycle batteries out there to choose from.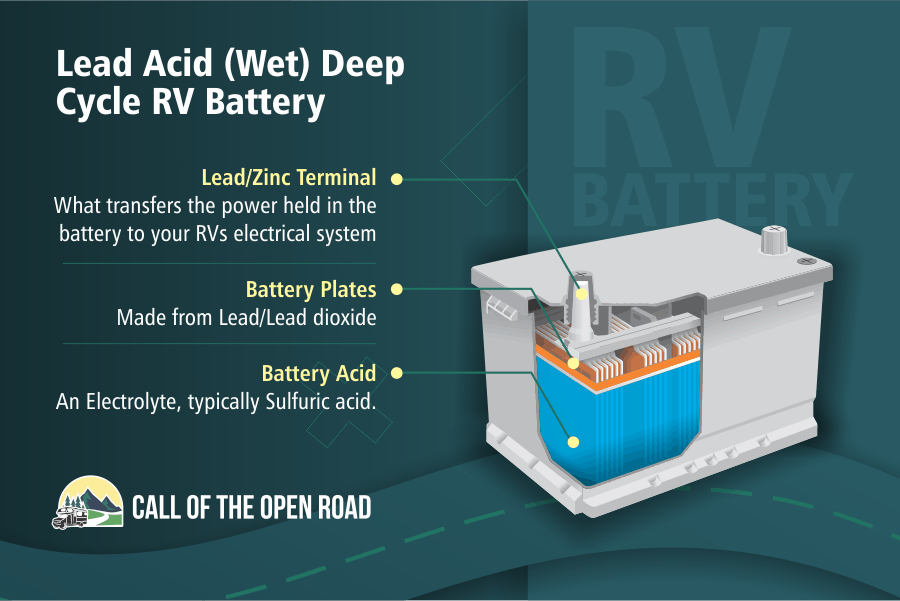 Flooded/Wet RV Batteries
Flooded or wet RV batteries feature plates that are fully submerged in electrolyte fluid. They're the cheapest type of deep cycle RV house battery and can last a long time with proper care.
However, flooded/wet batteries usually require more maintenance and need to be well-ventilated to prevent oxygen and hydrogen gas buildup.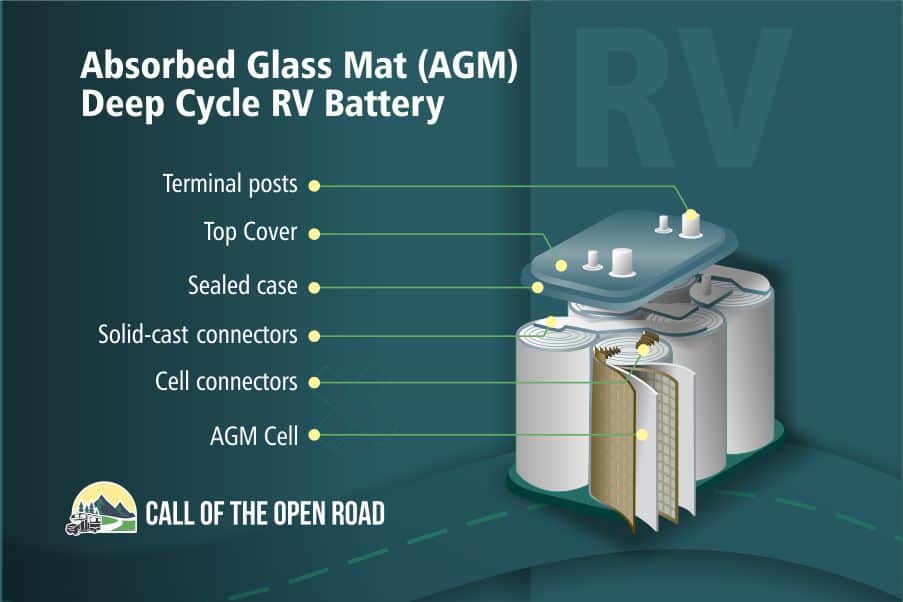 AGM Technology
AGM stands for "absorbed glass mat." Unlike flooded/wet models, AGM technology is sealed and produces virtually zero gas. This also means there's no spillage or maintenance needed.
Batteries of this type charge very quickly and are better for storage than flooded/wet batteries. They also perform better in low temperatures, making them a better option for campers north of the Mason-Dixon Line.
Gel RV Batteries
Gel RV batteries predate AGM batteries. With this type of battery, the electrolyte is mixed with silica, creating a gel.
Like AGM batteries, gel RV batteries are sealed and can't spill. However, they charge noticeably slower and are much more finicky in general.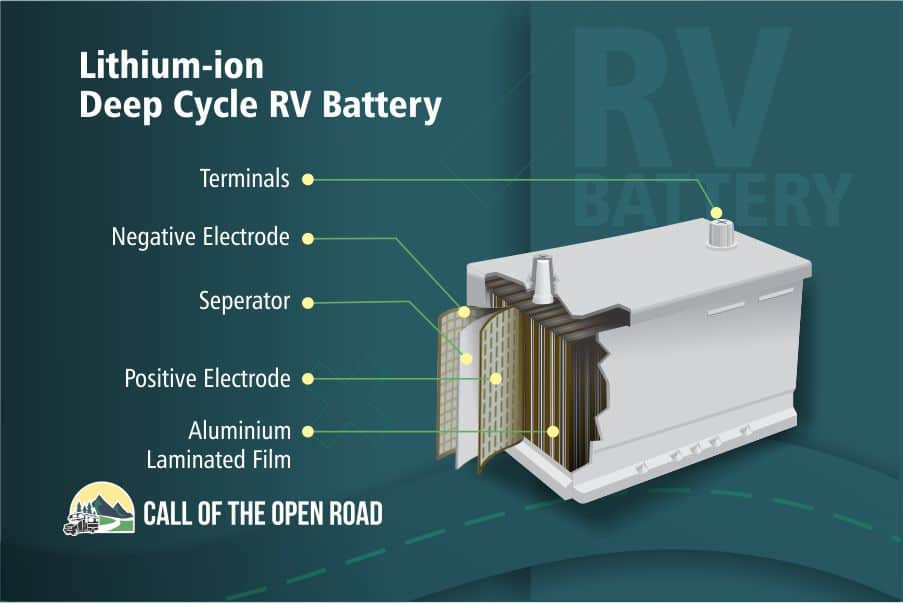 Lithium-Ion RV Batteries
Lithium-ion RV batteries are lightweight, charge efficiently, and deliver reliable performance. They're also more expensive, but they can be mounted a number of ways and operate well in both high and low temps.
Since they use lithium iron phosphate or LiFePO4, they're also safe, maintenance-free, and have a long life cycle despite delivering a constant discharge.
Features and Factors to Consider When Choosing the Best Camper Battery for You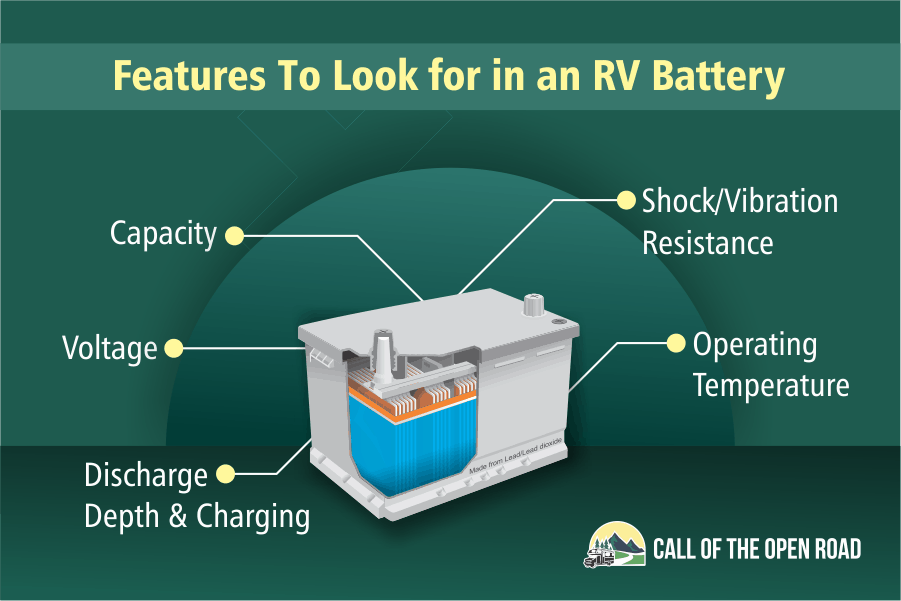 In addition to the type of battery, there are several other features and factors to take into account, such as:
Capacity
A battery's capacity is rated in ampere-hours, abbreviated Ah. The greater the Ah of an RV battery, the more amps it can deliver, which is always a good thing. For example, a 12v RV battery rated for 100Ah can produce 100 amps for an hour, or conversely, one amp for 100 hours.
When determining your energy needs, it's best to play it safe and go with a few more amps than you think you'll need. Ultimately, you want to be able to power everything you think you'll need in a day without your recreational vehicle battery or batteries dropping below 60 or 50 percent of their capacity.
Ideally, you would be able to recharge them through solar power, a campground electrical hookup, or a generator to have them ready for use the next day. If you plan on being off-grid without a solar panel setup for any length of time, you'll need to select a battery or batteries with the largest capacity possible.
Unfortunately, more power usually comes at a cost. In this case, it's size and weight. The bigger the battery, the more room you need to connect and store it.
Voltage
The typical voltage for both starter and deep cycle batteries is 12V. While some campers will take a cheaper 6 volt RV battery and string it together with a second to get the 12V they need, we don't recommend it. Sticking to 12 volt deep cycle RV batteries will serve you best.
Discharge Depth
Usually expressed as a percentage, the discharge depth indicates how much of a battery has been used or discharged. With lead-acid batteries, the extent of discharge correlates to the life cycle of the battery.
In most cases, the deeper your battery cycles, the fewer cycles it will give. Therefore, you should follow the recommended discharge depth of the battery to optimize its operating life.
Charging
When on the hunt for RV batteries, you'll also need to consider how you'll be charging them. Will you be using solar power, an electrical hookup, or a generator?
If you like, you can combine each of these charging methods, but you'll need a smart charger or charge controller. This device will deliver the perfect charge based on your battery type. It will also protect your battery by automatically adjusting the voltage and current.
Unless you like twiddling your thumbs and need an excuse for a little extra wood carving time, you want a battery with a quick charging time. Less time charging means less time collecting solar energy, less money spent on gas for the gennie, and less time on a concrete slab hooked up to an electrical plug.
Operating Temperature
Different camper batteries operate better than others at extreme temperatures, both high and low. So, if you plan on camping in Colorado for some wintertime skiing or Arizona for some summertime adventure, you need to make sure your battery will keep providing power when you need it most.
Shock and Vibration Resistance
Lastly, you need to consider whether or not a battery will be able to handle the constant vibrations and shocks of your rig and the road. A well-constructed product with good shock resistance will keep on performing without a hitch when the road gets bumpy.
When shopping for an RV battery, look for one with a sealed design. It's also a good idea to pick one you can mount without spills or leaks in any position. However, the most important thing is that its housing is sturdy and secure.
The Best Deep Cycle Battery Reviews
Last update on 2021-05-05 / Affiliate links / Images from Amazon Product Advertising API