Editors Choice
Odyssey PC680
Our top pick for the best RV battery goes to the Odyssey PC680. With an excellent power source and a long life cycle, two of the most critical factors for 99.9 percent of RV owners, the PC680 ticks all our boxes.
On top of this, its voltage delivery is super reliable and stable so you can worry less about rogue power outages rendering your AC, refrigerator, TV, and other creature comforts completely useless.
This model has a lifespan that is 70 % longer than traditional deep cycle batteries. It only delivers 170 cold crank amps, but it's enough to start the engine, which is also a nice plus.
The Odyssey PC680 also features a spill-proof design, vibration resistance, and the ability to operate in extreme temperatures. As one of the fastest recharging recreational vehicle batteries on the market as well, it's safe to say it won't let you down.
It lacks universal sizing, so you will need to do a little homework and take some measurements to see if it will fit your RV, but if it does fit it shouldn't disappoint.
Bottom Line: If you're searching for a great all-around choice, the Odyssey PC680 is a reliable option that checks almost every box.
Best Batteries for RV Use
Even in Montana, summertime temperatures can soar to above 90 degrees Fahrenheit, so you may need AC when traveling on the open road. Even when camping, a power source will come in handy for charging your phone and keeping food and drinks cold.
To enjoy these and other home comforts when out in the great outdoors, you will need an excellent RV battery! Read on to learn all you need to know about deep cycle batteries for RVs and discover some of the best options for hitting the open road today.
Best Deep Cycle Battery for RV Travel
Why you need a camper battery
What features to focus on
Reviews of 9 of the best RV Batteries
Our recommendation for the best RV deep cycle battery
How to Choose the Best RV Battery for You
RV house batteries may look a lot like car or starter batteries, but they're quite different. While car batteries, or a starting battery, are designed to provide a single large charge to start a vehicle, RV batteries offer a longer, more consistent electric current to power onboard appliances and electronics.
From coffee machines and microwave ovens to TVs, phone chargers, and everything in between, motorhome batteries can be used to power virtually everything in your rig and any electronics you may want to take with you on the road.
Known as deep cycle batteries, they provide a stable source of power for off-grid living, camping, and exploration.

Why You Need an RV Battery
RV deep cycle batteries are great for powering your RV appliances and electronics off-grid. If you're at a campground or park with hookups, they can also provide you with a backup power supply should a bad storm hit and knock the power out.
Since a camper trailer battery is designed for repeated charging and discharging, they're also excellent for storing solar energy, making them great companions for solar panels. Some are even dual-purpose, allowing them to both start up your RV and provide long-lasting deep cycle power.
RV batteries can pretty much do it all. Having one will allow you to keep you and your family comfortable wherever your adventures may take you.
Types of RV Batteries
Similar to marine batteries, all batteries for RVs are deep cycle. However, there are a few different types of RV deep cycle batteries out there to choose from.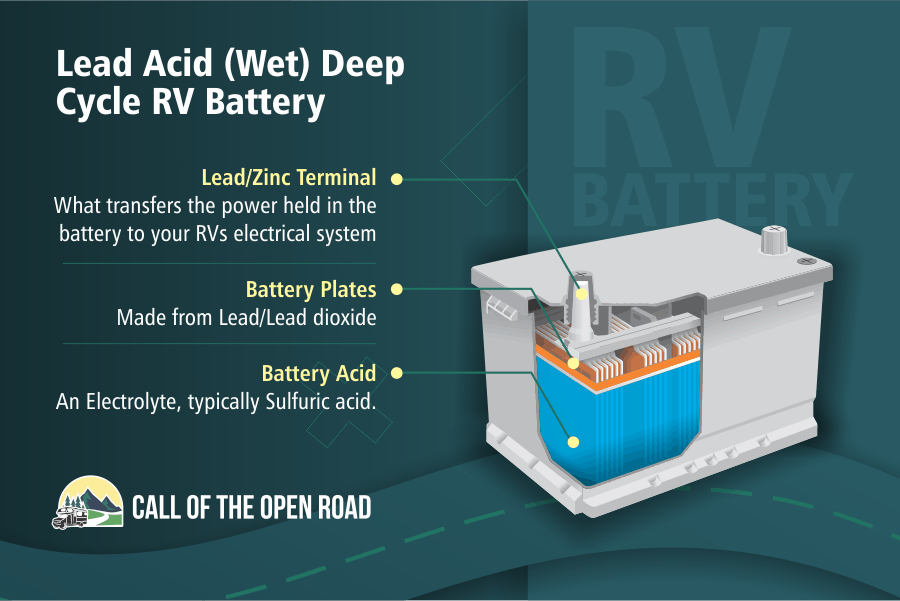 Flooded/Wet RV Batteries
Flooded or wet type feature plates that are fully submerged in electrolyte fluid. They're the cheapest type and with proper care can last a long time.
However, flooded/wet batteries usually require more maintenance and need to be well-ventilated to prevent oxygen and hydrogen gas buildup.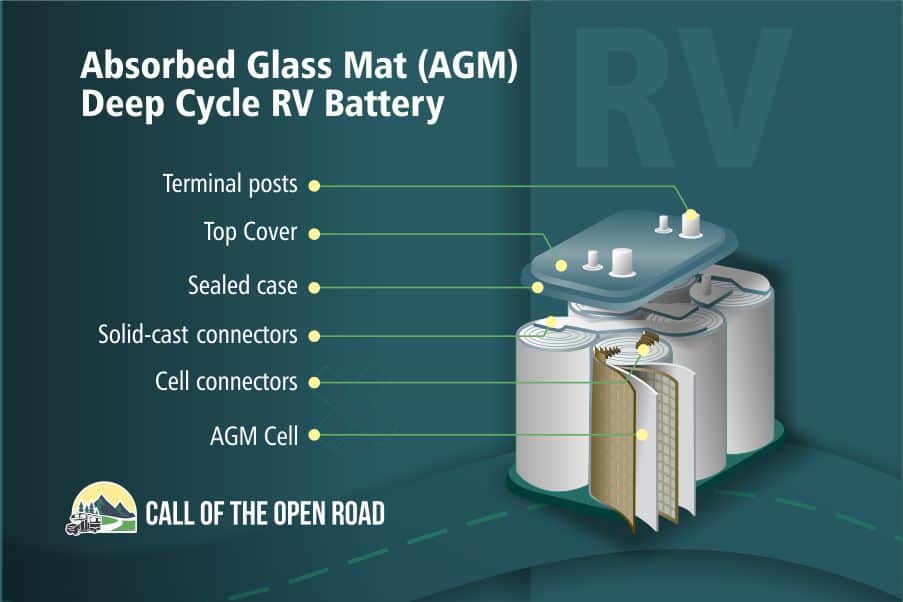 AGM RV Batteries
AGM stands for "absorbed glass mat." Unlike flooded/wet models, AGM technology is sealed and produces virtually zero gas. This also means there's no spillage or maintenance needed.
Batteries of this type charge very quickly and are better for storage than flooded/wet batteries. They also perform better in low temperatures, making them a good option for campers north of the Mason-Dixon Line.
Gel RV Batteries
Gel batteries predate AGM batteries for RV use. With this type, the electrolyte is mixed with silica, creating a gel.
Like an AGM RV battery, gel batteries are sealed and can't spill. However, they have a noticeably slower charge and are generally much more finicky to deal with.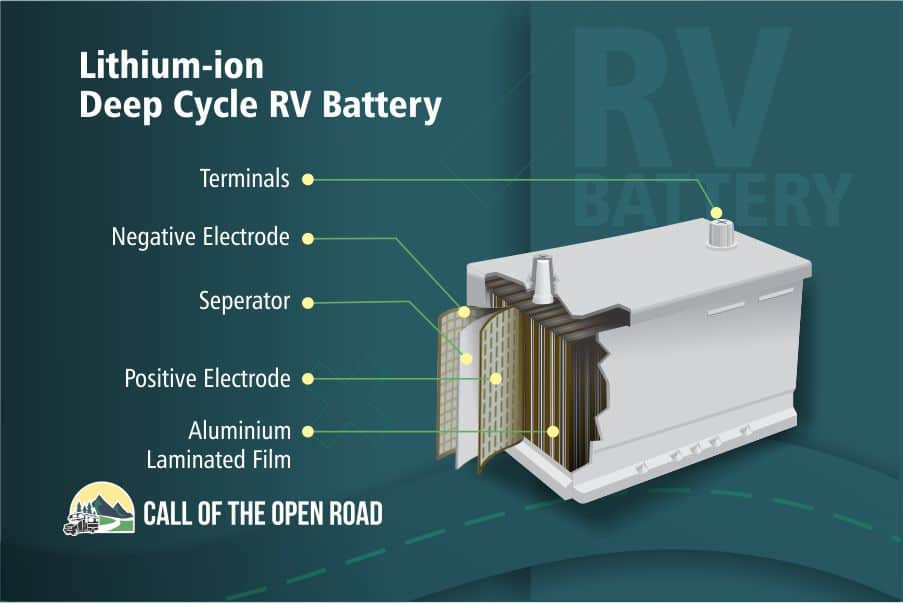 Lithium-Ion RV Batteries
Lithium-ion batteries are lightweight, charge efficiently, and deliver reliable performance. They're also more expensive, but they can be mounted in a number of ways and operate well in both high and low temperatures.
Since they use lithium iron phosphate or LiFePO4, they're also safe, maintenance-free, and have a long life cycle despite delivering a constant discharge.
Features and Factors to Consider When Choosing the Best Travel Trailer Battery for You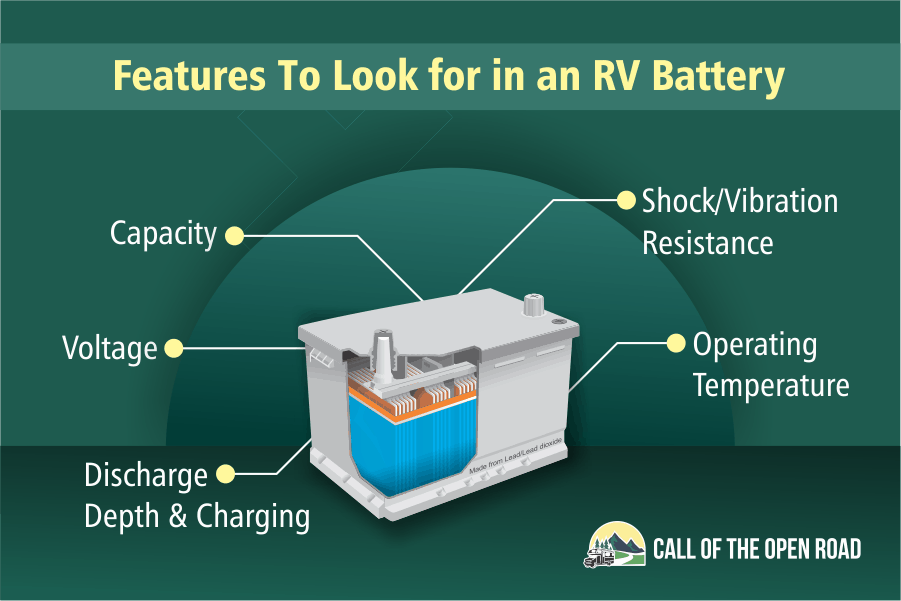 In addition to types of batteries, there are several other features and factors to take into account, such as:
Capacity
Battery capacity is rated in ampere-hours, abbreviated to Ah. The greater the Ah capacity, the more amps it can deliver, which is always a good thing. For example, a 12v RV battery rated for 100Ah can produce 100 amps for an hour, or conversely, one amp for 100 hours.
When determining your energy needs, it's best to play it safe and go with a few more amps than you think you'll need. Ultimately, you want to be able to power everything you think you'll need in a day without your recreational vehicle batteries dropping below 60 or 50 percent of their capacity.
Ideally, you would be able to recharge them through solar power, a campground electrical hookup, or a generator to have them ready for use the next day. If you plan on being off-grid without a solar panel setup for any length of time, you'll need to select batteries with the largest capacity possible.
Unfortunately, more power usually comes at a cost. In this case, it's size and weight. The bigger the battery, the more room you need to connect and store it.
Voltage
The typical voltage for both starter and deep cycle batteries is 12 volt. While some campers will take cheaper 6 volt batteries and string them together with a second to get the 12V they need, we don't recommend this. Sticking to a 12v deep cycle RV battery will serve you best.
Discharge Depth
Usually expressed as a percentage, the discharge depth indicates how much of a battery has been used or discharged. With lead-acid batteries, the extent of discharge correlates to the batteries life cycle.
In most cases, the deeper your battery cycles, the fewer cycles it will give. Therefore, you should follow the recommended discharge depth to optimize the batteries operating life.
Charging
When on the hunt for batteries for your RV, you'll also need to consider how you'll be charging them. Will you be using solar power, an electrical hookup, or a generator?
If you like, you can combine each of these charging methods, but you'll need a smart charger or charge controller. This device will deliver the perfect charge based on your battery type. It will also protect your battery by automatically adjusting the voltage and current.
Unless you like twiddling your thumbs and need an excuse for a little extra wood carving time, you want batteries with a quick charging time. Less time charging means less time collecting solar energy, less money spent on gas for the gennie, and less time on a concrete slab hooked up to an electrical plug.
Operating Temperature
Different camper batteries operate better than others at extreme temperatures, both high and low. So, if you plan on camping in Colorado for some wintertime skiing or Arizona for some summertime adventure, you need to make sure your battery will keep providing the amount of power you want when you need it most.
Shock and Vibration Resistance
Lastly, you need to consider whether or not a battery will be able to handle the constant vibrations and shocks of your rig and the road. A well-constructed product with good shock resistance will keep on performing without a hitch when the road gets bumpy.
When shopping for RV batteries, look for models with a sealed design. It's also a good idea to pick one you can mount in any position without spills or leaks. However, the most important thing is that its housing is sturdy and secure.
The Best Deep Cycle Battery Reviews
Odyssey PC680
Best RV Deep Cycle Battery
There are a lot of great recreational vehicle batteries out there, but the Odyssey PC680 stands out from the pack in nearly every spec, making it our top pick.
It delivers on performance with up to 170 cold cranking amperes and a large amount of voltage, yet does so in a stable manner, allowing it to last up to 70 percent longer than other standard options. This is great for RV owners because no one wants to run out of battery power six hours deep into the sticks.
It also features a sturdy yet flexible body for great shock and vibration resistance as well as a no-spill design to prevent leaks. Plus, it has a quick recharge time too. It can be fully recharged in only four to five hours.
On the downside, the Odyssey PC680 lacks universal sizing, which may result in some sizing issues for some RVs. So if you like the sound of this option, you'll need to do some measuring and see if it will fit first.
PROs

Longer life cycle saves money and stress
Rapid charging time
Resistant to bad weather, vibration, and shocks

CONs
Bottom-Line: As long as you get the fit and size right, the Odyssey PC680 is more than capable of delivering 100 percent satisfaction in terms of performance, longevity, and ease of use.
Optima 8016-103 D34M BlueTop
Most Durable
If durability is a concern, which it should be, the Optima D34M BlueTop might be what you're after. Whilst it is well-designed, and has an incredible ability to provide ample power and serve as both a starter and a RV deep cycle battery, its durability is where it shines most.
The Optima's strong body allows it to withstand all types of bumps, shocks, and types of weather. This is a real plus when going off the beaten path. In other words, it's tough and designed to deliver years of dependable performance in all conditions.
It also lasts for long periods of time from a power perspective. It has a two-hour reserve capacity with the power set to high. With such a capacity you can start and run your RV, along with several small appliances, for up to two hours between charges. Without starting, it will last even longer.
The only real drawback of the Optima D34M is its sub-par packaging. According to reports and our own experience, packaging and handling can be kind of hit and miss.
PROs

Strong power delivery
Very tough and reliable
Works well in extreme weather

CONs

Packaging could be better
Bottom-Line: If you're willing to take a chance on a heavy duty model with impressive performance, reliable power, and a strong body that will hold up for years, the Optima D34M is definitely worth a look.
Universal UB121000-45978 12-volt 100 Amp Hours Deep Cycle AGM Technology
Best Maintenance-Free
Another sturdy, reliable, and maintenance-free option worth checking out is the Universal UB121000- 45978 100Ah Deep Cycle AGM 12-volt Battery, but we'll just call it the Universal for short. Spill-proof and maintenance-free, it's one of the most reliable and user-friendly products available.
It's also easy to install and designed to fit just about any RV. You can also mount it in any position, and it does an excellent job of resisting shocks and vibrations as well. In short, everything about it works.
While it provides more than enough power and charges pretty quickly too, if you have the room you can also quickly hook two batteries together in parallel for 24 volts and 200Ah of traveling power.
That said, this Universal model tips the scales, so be prepared to lug around some serious extra weight.
PROs

Maintenance-free, user-friendly design
Easy installation with several mounting positions
Fast recharging times

CONs

Heavier than some other options here
Bottom-Line: The Universal UB121000 is as user-friendly and maintenance-free as RV batteries get, making it an excellent option for anyone interested in stress-free camping in the great outdoors.
VMAX857 12-volt 35AH AGM
Best Bang for your Buck
Whether you're on a tight budget or you love getting a great deal, the VMAX857 12-volt 35AH AGM Deep Cycle RV Battery might be for you. VMAX prides itself on making the highest quality AGM batteries at the best possible prices, and this one is no exception.
In addition to recharging more quickly than many other deep cycle RV batteries, it's able to consistently provide power to multiple RV appliances at the same time.
Thanks to the VMAX's extremely strong custom-made lead plates, you can feel confident in your ability to power just about anything and enjoy the comforts of home hundreds of miles from the nearest cell phone tower.
The only thing we would change is the charger. A special charger is needed, which will increase your out-of-pocket costs.
PROs

Great value
Built to last
Good build quality

CONs

Special battery charger needed
Not as powerful as some options
Bottom-Line: Despite only being rated for 35-amp hours, the VMAX857 is reliable and well-made making it one of the best value for money options on the market today.
Renogy 12-volt 100Ah AGM
Best Off-Grid
If you plan on taking your RV off-grid and don't want to haul gallons of gas with you for a loud, obnoxious generator, this Renogy might be a perfect fit. This deep cycle absorbent glass mat battery was explicitly designed for use with solar energy systems.
Not only is it super easy to connect and truly plug n' play, but it is compact as well, making it an excellent option for using multiple batteries to create a solar power bank. However, at 12V and 100Ah, you may not need more than one unit. With an internal cell fuse, short circuit and over-discharge protection as well, it will run at peak performance for thousands of cycles.
As an off-grid AGM deep cycle battery designed for solar applications, this Renogy model is also super tough. Even when exposed to zero-degree temps and reaching 100 percent depth of discharge multiple times, it will keep on charging and discharging just like you need it to when you're miles away from the nearest town.
Unfortunately, all this awesomeness comes at a hefty price, literally. Weighing in at 66 pounds, you'll definitely want to hit the dumbbells prior to installing this bad boy.
PROs

Compact and lightweight
Works perfectly with solar power systems
Strong performance in all conditions

CONs
Bottom-Line: If you want to get away from it all without giving up the comforts of the modern world, the Renogy 12-volt 100Ah Deep Cycle can help you do exactly that. Designed for solar energy systems by a solar energy company, it's made for going off-grid.
WindyNation BattaMax 100Ah 12-volt Lead-Acid AGM
Best for Battery Banks
The WindyNation BattaMax is another deep cycle AGM 12 volt battery that's perfectly suited for solar charging and RV use. The lead-acid battery is housed in strong ABS plastic and is completely sealed, so it's spill-proof, leak-proof, and maintenance-free.
Using 99.995 percent pure lead, it maintains minimal self-discharge to prolong its longevity while still delivering enough power to run your AC, refrigerator, microwave, TV, and other appliances.
Since the BattaMax is competitively priced and sold by one of the top makers of solar RV kits, it's perfect for building a parallel battery bank with other BattaMax batteries for even greater reserve capacity. At 100Ah, four of them would provide you with 400Ah, which is more than enough power to bring all of the comforts of home with you to your campsite.
Unfortunately, its operational temperature range is somewhat more limited than other batteries in this guide.
At 5°F to 122°F, its operational temperature range is one of its only drawbacks. If you plan on camping in Colorado in December or Arizona in July, you may be better off going with another option.
PROs

Strong value
Great for battery banks
Good combination of longevity and performance

CONs

Operating temp range is somewhat limiting
Bottom-Line: If you're looking for the option to build a battery bank and enjoy seasonal solar-powered living in the great outdoors, the WindyNation BattaMax is a great choice for you.
Odyssey PC925
Best for Extreme Temperatures
Unlike the WindyNation Battamax, the Odyssey PC925 is designed to deliver consistent performance in both sweltering and cold weather. With a whopping 330 cold-cranking amps, it provides enough reliable power to start your motorhome at any time of the year and run virtually any appliance you can cram inside it.
It doesn't just provide big bursts of power either. We found it offers high yet stable voltage in even the harshest of weather conditions. So, as its name implies, it allows you to take your RV on odysseys anywhere, anytime.
If that weren't enough, like the Odyssey PC680, the PC925 offers a 70 percent longer service life than many other brands. It comes with a full 4-year warranty, giving you a solid 4-10 years of use. With a fast recharge time as well, there's certainly a lot to like.
On the downside, it only offers a 28Ah capacity, so depending on your use, it will need to be recharged more frequently than other larger capacity products.
PROs

Works great in extreme temps
Can start and run any RV
Made to last

CONs

Needs more frequent recharging
Bottom-Line: The Odyssey PC925 is a reliable option ideal for RV owners who frequently camp in extreme hot or cold climates.
Optima 8052-161 D31M BlueTop
Best Dual-Purpose
We've discussed a few starting and deep cycle batteries so far, but our favorite of the bunch from a dual-purpose perspective is the Optima D31M BlueTop. With a low self discharge rate, which is excellent for its life cycle and ability to hold a charge, it's also able to deliver a strong burst of power to start your RV should you need it to.
The Optima D31M BlueTop also has an impressive capacity. Not only does this give it a longer shelf life, but combined with its use of SpiralCell technology, it provides you with the right amount of maintenance-free power when and where you need it.
Of course, like the other great deep cycle batteries in this guide, it is spill-proof and leak-proof as well. Plus, it's resistant to shocks and vibrations, which is great for going off the beaten path.
You can also mount it in any position you like, so installing it is pretty darn easy. However, it is a bit heavy, so you might want to eat your Wheaties before giving it a go.
PROs

Dual-purpose design
Impressive starting power
Low depth of discharge

CONs
Bottom-Line: The Optima D31M BlueTop is an impressive dual-purpose model with a lot of features and benefits for comfortable camping and off-road exploration.
Battle Born 12-Volt 100 Ah LiFePO4
Best Lightweight
At the opposite end of the weight spectrum is the Battle Born 12-Volt 100 Ah LiFePO4. Unlike the others, it's lithium-ion, making it the lightest model on our list. This makes it great for installing and RVing in general.
Despite weighing ¼ the weight of traditional lead-acid batteries, this Battle Born lasts up to 10 times longer, so it really packs a punch. It also has an incredible depth of discharge. In our tests, even after 1,000 cycles at 100 percent discharge, the battery's energy storage capacity only decreased by less than 10 percent. That's incredible!
It lasts a long period of time too. In fact, with an expected life cycle of 3,000-5,000 cycles, it should perform admirably for a minimum of five years. It can also hold its charge for up to a year with no load charging, which is pretty impressive as well.
Even with our skepticism, the only drawback we found with the Battle Born lithium-ion battery is the need for a smart charger designed for lithium-ion batteries. Even with one, charging will take a while. Aside from this, we think you'll enjoy its lightweight and intelligent, sensical, and sufficient design.
PROs

Extremely lightweight
Smart lithium-ion design
Will last forever
Great discharge rate

CONs
Bottom-Line: Thanks to its lithium-ion design, the Battle Born 12-Volt 100Ah LiFePO4 is super lightweight and provides many advantages over many of its traditional lead and acid-based peers. It's the best lithium battery on our list and a fantastic choice for replacing existing lead-acid batteries or creating a high-performance battery bank from scratch.
Last update on 2023-06-07 / Affiliate links / Images from Amazon Product Advertising API