Things to Consider When Buying a Deep Cycle Battery Charger for your RV
Battery Type
The different types of deep cycle batteries require slightly different recharging currents and voltages for the different charging stages. If you use the wrong kind of deep cycle battery chargers, you run the risk of significantly decreasing the battery's lifespan or even ruining the battery altogether.
Even if the product states that it can charge the type you use, make sure it delivers the proper amps and voltage for each charging stage. While this may not be much of an issue with high-quality units, it can be a bigger problem for simpler or cheaper products.

This is easily one of the most important factors when choosing which product to buy. Deep cycle batteries come in many different varieties, with the most common types being Flooded Lead-Acid (FLA) and Valve-Regulated Lead-Acid (VRLA).
VRLA batteries are also called Sealed Lead-Acid (SLA) and come in 2 different types as well those being Absorbent Glass Mat (AGM) and Gel Cells. There are also Lithium-Ion (Li-Ion) deep cycle batteries that perform better than the rest, but they are also the most expensive.
Charging Modes
Depending on the condition of your battery and the Depth of Discharge (DoD), you may need something capable of providing more than a simple charge. If you let your lead acid battery get in bad condition, you may also require a product that can restore the cell and recondition it.
Keep in mind, if your battery is in deplorable condition, you will likely need a charger that can desulfate your battery. That said, not all forms of sulfation are reversible, so just because a product claims it has a desulfation mode does not mean it can restore extremely damaged batteries.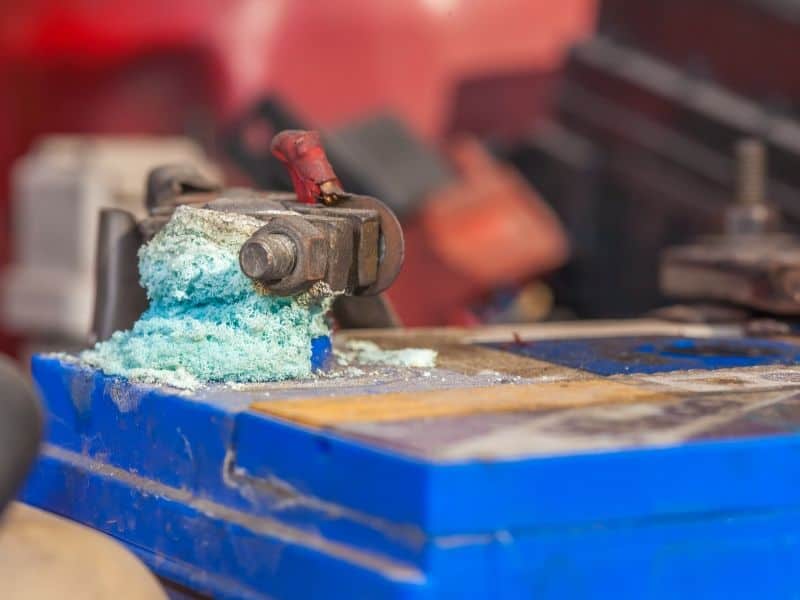 Reconditioning the battery chemistry occurs after desulfination when the lead sulfate separates, and the charger then regasses the lead into lead oxide. Desulfination pulses high voltage and amp current while the reconditioning uses a high voltage with a low amp current.
All deep cycle battery chargers at least provide a bulk charging mode, which gets your cell to a 70 to 80-percent charge, as well as an absorption charge mode that gets it to 95 to 100-percent charge. Most decent units also have a float charge function, which keeps it topped off without overcharging it as trickle deep cycle battery chargers can.
More advanced deep cycle battery chargers also include stages that test the health of the cell at different steps in the process. The most common charge test stage is the soft start, which determines whether the battery can accept a charge in the first place.
Protections
Most deep cycle chargers include a couple of different protections, with some offering more than others. The most common types of charger protections are short circuit protection and reverse polarity protection to prevent damage to either the battery or the charger unit.
After that, many products also offer protections to prevent overcharging or over-discharging. Getting a little bit more involved, protections to prevent over-volt or over-current charging further ensures the life of your battery as well as its charge.
Finally, many also often include a system to monitor the temperature of the cell you are charging to prevent degradation or an improper type of charge. Keep in mind, units without protections can overcharge the battery, which reduces its lifespan or even ruins the battery altogether.
Outdoor Resistance
This may or may not be an essential considering depending on where you charge deep cycle batteries. If you use your RV for weekend trips or periodic vacations, chances are you recharge your deep cycle batteries in a garage or some other protected controlled environment.
In many instances, you likely do not need to worry too much about charging during a rainstorm. However, if you live in your RV or spend significant amounts of time RVing in general, you might need to recharge your power source away from home.
In this instance, having a product that can withstand the rain might be necessary, mainly depending on the RV park. This also applies to shock resistance, since you cannot guarantee the wiring away from home ahead of time.
Another "resistance" to consider is the temperature since deep cycle batteries need to be charged at different voltages and currents depending on the temperature of the unit your charging and the ambient temperature. Most good products include protections to prevent the charger from using too high a voltage or current in hot temperatures.
However, cold temperatures present a potentially more significant issue, particularly if the unit is limited by the maximum current it can push. This can be an issue for both regular RVers as well as occasional RVers since deep cycle batteries are usually housed in the vehicle or a garage– neither of which are necessarily temperature controlled.
Charging Speed
While the charging speed might seem important, it is more of a convenience factor than anything else. Though it is not the most accurate measurement, one of the best ways to gauge the charging speed of your product is its input amps.
However, this is not the only factor that impacts charging time, but it is one of the few manufacturers provide the details of.
Keep in mind, you should not allow your deep cycle battery to reach a DoD that requires an extensive charge as this can shorten the lifespan of your power unit. At the most, you can allow your battery to reach a DoD of 50-percent as this is the DoD most manufacturers use when rating the number of cycles a cell can undergo as well as how long a charger takes to recharge a maximum amp hours.
Best Deep Cycle Battery Charger for your RV: The Results
Last update on 2021-06-25 / Affiliate links / Images from Amazon Product Advertising API