Editors Choice
NOCO Genius G15000
The G15000 can charge pretty much anything making it our best deep cycle battery charger. Whether you have one or multiple batteries, or Li-Ion or AGM batteries, the G15000 can do it all. On top of that, it comes with a set of O-ring connectors that include alligator clamp attachments for quick transition.
This 12v deep cycle battery charger also functions as a direct power supply, able to deliver a continuous 13.6V of electricity to power various accessories. Additionally, it has a repair mode to reverse damage created from sulfination or long periods of non-charging. It even comes with a jump charge function that allows you to jump a starter battery if you ever get caught short.
Even with all the safety features it has, such as reverse polarity and its spark-proof design, this model also comes with a whopping five-year warranty so you won't have to worry about its longevity. With all these features, and the wide range of batteries it can charge, the G15000 is our top marine deep cycle battery charger.
Best Battery Chargers for RVs: Keeping you Charged
Whether you RV on the weekend, for vacations, or all year-round, one of the greatest things about RVing is you can adventure alongside all your home comforts. Of course, this means you'll need a power supply for all of your appliances and devices. The most common solution for RV travel is to use a deep cycle battery, rather than a starter battery.
To ensure you don't run out of power anytime soon, when it comes to charging deep cycle batteries, you are going to need a special charger to charge a deep cycle battery.
That is why we put together a list of the nine best deep cycle battery chargers for your RV, and why each one has made the list. We have also provided a helpful buyer's guide so that you can navigate the dizzying features and specs to find out what is the best battery charger for you.
If you need more info on the "how-to" then check out our guide to charging RV batteries.
Looking to buy the best RV Battery Charger for your needs?
What to look for in a 12-volt deep cycle battery charger
Often asked questions about deep cycle battery chargers
The 9 best deep cycle battery charger reviews
Things to Consider When Buying a Deep Cycle Battery Charger for your RV
This is easily the most important factor when deciding which deep cycle battery charger to buy. Deep cycle batteries come in several varieties, the most common types being Flooded Lead-Acid (FLA) and Valve-Regulated Lead-Acid (VRLA).
VRLA batteries, also called Sealed Lead-Acid batteries (SLA), further come in 2 different types Absorbent Glass Mat (AGM) and Gel Cells. There is also a third option, Lithium-Ion (Li-Ion) batteries that perform better than the rest, but also come with a heftier price tag.

Different types of deep cycle batteries require differing recharging currents and voltages for the various charging stages. If you use the wrong kind of deep cycle marine battery charger, you run the risk of significantly decreasing the lifespan, or even worse ruining the battery altogether.
Even if a particular deep cycle charger states it can charge the type of batteries you use, make sure it delivers the required amps and voltage for each charging stage. While this may not be too much of an issue with high-quality units, it can be a bigger problem for simpler or cheaper products.
Charging Modes
Depending on the condition of your batteries and the Depth of Discharge (DoD), you may need a deep cycle battery charger capable of providing more than a simple charge. If your lead acid battery is in a bad condition or hasn't been charged in a while, you may also require a product that can restore the battery cell and recondition it.
If your battery is in a truly deplorable condition, you will likely need a deep cycle battery charger that can desulfate. Keep in mind that not all forms of sulfation are reversible, so just because a product claims it has a desulfation mode does not mean it can restore extremely damaged batteries.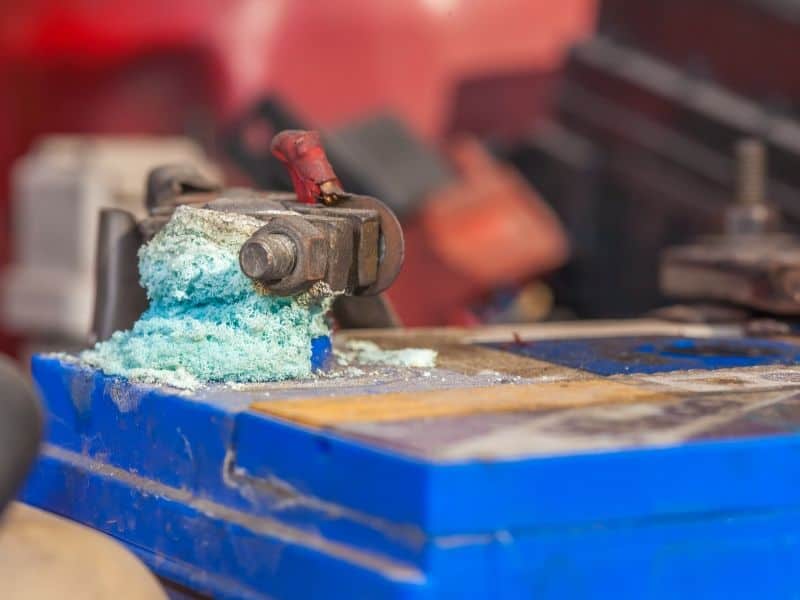 At the very least, a deep cycle battery charger will have a bulk charging mode, which gets your cell to a 70 to 80-percent charge, as well as an absorption charge mode that gets it to 95 to 100-percent charge. Most decent units also have a float mode, which keeps it topped up without overcharging which a trickle battery charger can do.
A more advanced deep cycle battery charger will also include stages that test the health of the cell at different steps in the charging process. The most common charge test stage is the soft start, which determines whether the battery can accept a charge in the first place.
Protections
Most deep cycle chargers include several safety features, with some offering more than others. The most common types of charger protections are short circuit protection and reverse polarity protection to prevent damage to either the battery or the charger unit.
Above that, many products also offer protections to prevent overcharging or over-discharging. Getting a little bit more involved, protections to prevent over-volt or over-current charging further ensure the battery life as well as its charge.
Finally, many also include a system to monitor the temperature of the cell you are charging to prevent degradation or an improper type of charge. Keep in mind, units without protections can overcharge the battery, which reduces its lifespan or even ruins the battery altogether.
Outdoor Resistance
This may or may not be an essential consideration depending on where you charge your deep cycle batteries. If you use your RV for weekend trips or periodic vacations, chances are you recharge your deep cycle batteries in a garage or some other protected controlled environment.
In many instances, you likely do not need to worry too much about charging during a rainstorm. However, if you live in your RV or spend significant amounts of time RVing in general, you might need to recharge your power source away from home.
In this instance and dependant on your RV park, having a product that can withstand the rain might be necessary. This also applies to shock resistance, since you cannot guarantee the level of wiring away from home.
Another thing to consider is the temperature. Deep cycle batteries need to be charged at different voltages and currents depending on both the temperature of the unit you are charging as well as the ambient temperature. Most good products include protections to prevent the charger from using too high a voltage or current in hot temperatures.
However, cold temperatures present a potentially more significant issue, particularly if the unit is limited by the maximum current it can push. This can be a problem for both regular RVers as well as occasional RVers since deep cycle batteries are usually housed in the vehicle or a garage– neither of which are necessarily temperature controlled.
Charging Speed
While the charging speed might seem important, it is more of a convenience factor than anything else. Although it is not the most accurate measurement, one of the easiest ways to gauge the charging speed of your product is by its input amps. Input amps are not the only factor that impacts charging time, but it is one of the few that manufacturers provide the details of.
Keep in mind, you should not allow your deep cycle battery to reach a DoD that requires an extensive charge as this can shorten the lifespan of your power unit. At the most, you can allow your battery to reach a DoD of 50-percent. This is what most manufacturers use when rating the number of cycles a cell can undergo, as well as how long a charger takes to recharge to maximum amp hours.
Best Deep Cycle Battery Charger for your RV: The Results
NOCO Genius G15000 12V/24V 15 Amp Battery Charger
Most Powerful
Out of all the products we reviewed the NOCO Genius came out on top in terms of sheer versatility. Not only is the NOCO a traditional lead-acid and AGM deep cycle battery charger, but it also charges the less common lithium-ion batteries as well. It charges both 12V and 24V batteries, making it ideal for RVs with a robust electrical power system.
Beyond the versatility afforded, the G15000 blows most of the competition out of the water with a maximum current rating of 15 amps. This massive increase in charging current drastically reduces the amount of time it takes to charge.
Although the G15000 comes with the usual protections, such as reverse hook-up protection and spark-proof technology, it does also come with a five-year warranty. Along with a repair mode for reversing battery damage caused by non-use and sulfination, and a jump charge function, we have found little to fault this product.
PROs

Suitable for all types of batteries
Charges quicker than most
Has a low voltage and desulfinating charge
Has numerous protections

CONs

Is a more expensive product
Has mediocre cables
Bottom-Line: Regardless of the type of deep-cycle battery you use, the Genius G15000 can charge it, and generally more quickly than most of the other options on our list.
LST 5A 12V Automatic Smart Battery Charger and Maintainer
Best Battery Maintainer
Whether you have a small system or an extensive array of batteries, this 12v battery charger is perfect for keeping them charged and in good working order. With eight different types of protection ranging from the overall battery capacity to the individual power feed, the LST maintains a stable feed.
The LST also has one of the more rugged designs we came across, sporting an IP65 waterproof rating more than suitable for use outdoors during a rainstorm. Even better, this battery charger for deep cycle battery charging also has a 7-stage charging cycle to provide the specific kind of charge you require, regardless of the discharge state.
It is worth noting that this charger performs much better at maintaining batteries already in good condition than it does to recover damaged or sulfated cells. The LST smart deep cycle battery charger also only works on 12V batteries, though it works with the three most common types of deep cycle batteries.
PROs

Is a less expensive product
Has 7-stage charging
Provides numerous protections
Is IP65 waterproof

CONs

Only charges 12V batteries
Better for maintenance than charging
Bottom-Line: If you only use 12-volt batteries and stay on top of their discharge cycles, the LST is an excellent choice for maintaining their health.
Battery Tender Plus 021-0128, 1.25 Amp
Easiest to Use
This 12v marine battery charger is one of the more straightforward models to use without any buttons or controls to worry about. All you have to do is connect it to your dead battery, plug it into the AC outlet, and it will take care of the rest.
While not quite as advanced as some of the other models we reviewed, the Battery Tender Plus still comes with a solid 4-stage charging cycle. On top of that, it can charge deep cycle batteries as quickly as other options on this list, pushing more than twice the amps, while still providing a safe current.
This charger also features a clearly labeled easy-to-read display, though it can occasionally give inconsistent readings depending on the battery's health and internal components. Make sure not to leave it outdoors though as it does not offer any kind of dust or waterproofing.
PROs

Is a less expensive product
Is easy to use
Has 4-stage charging
Can charge a wide variety of batteries

CONs

Inconsistent charge readings
Is not weather-resistant
Bottom-Line: As one of the original "set it and forget it", this Battery Tender charger still performs reliably and effectively, even if some competitors are more advanced.
BLACK+DECKER BM3B Fully Automatic 6V/12V
Best Budget Charger
When you need a deep cell battery charger but do not have a lot of money to spend, the BLACK+DECKER BM3B is a reliable alternative to some of the pricier options we came across. Even better, this model does not suffer from some of the durability issues that other budget deep cycle battery chargers can sometimes have.
The BM3B charger provides further benefit by being able to charge 12V as well as 6V batteries, which is excellent if you use a 6V array to save a bit on costs. On top of that, the BM3B charger is also easy to use with a plug-and-play design and a single switch to toggle between 12V or 6V.
The BM3B can charge with O-rings or alligator clips, though it delivers one of the smaller currents and takes a bit longer to charge batteries than most of the other products we encountered. You also need to protect the BM3B from the elements as it is not weather resistant, though it does come with a built-in mounting bracket.
PROs

Is less expensive
Can charge 6V batteries
Has two types of connectors
Is easy to use

CONs

Is a slower to charge
Is not weather-resistant
Bottom-Line: If you are not in a rush, and have an eye on the price tag, the BLACK+DECKER BM3B is easy to use and can work with an FLA, gel, and AGM batteries.
BatteryMINDer Model 1500 12V 1.5 AMP
Best Parallel Smart Charger
While the Schumacher SE-1-12S is not the only product on our list that can recharge 6V batteries, it tends to perform better at this than its competitors. Not only does this allow you to charge a 6V deep cycle battery array, but the 1.5A current means you do not have to wait as long for the batteries to charge as you might with other inexpensive products.
There is no setup required as the Schumacher SE-1-12S features an automatic voltage detection function to determine the type of battery connected. Even better, its rugged plastic case is resistant to water, oil, gasoline, solvents, and acid means it can be used in a wide variety of environments.
On the downside, this model is not meant to recondition from a deep discharge, nor does it desulfate. You also need to disconnect the Schumacher SE-1-12S when not charging, as it will otherwise discharge the battery.
PROs

Is a less expensive product
Has 7-stage charging
Can maintain four parallel batteries
Comes with SmarTECHnology

CONs

Only charges 12v batteries
Not the greatest at desulfination
Bottom-Line: When you have a large array of deep cycle batteries in decent condition, the BatteryMINDer will help keep them that way even run in parallel.
Optima Digital 400 12V
Best Deep Cycle Recovery Charger
The Optima Digital 400 not only has a wide range of functions and versatility, but also features one of the top displays we came across, containing all of the relevant information you might need. The screen itself uses a bright backlight LCD panel that shows the charging cycle, the battery's charge capacity, the battery's amp current, and the battery's current voltage.
However, the Optima Digital 400 goes well beyond offering a great display with one of the better recovery modes we found, able to charge deeply discharged AGM batteries with as little as a 1.25V current. Beyond recovery, the Optima Digital 400 can juice a wide variety of different types of cells, including deep cycle, starter, and hybrids, with automatic monitoring features to keep track of the battery's condition.
With all of these health and recovery features, it is disappointing to see that the Optima Digital 400 does not desulfate batteries. However, the Optima Digital 400 charges quicker than most with a 4A current for large batteries and a 3A current for smaller ones.
PROs

Has an excellent display
Is easy to use
Has two types of connectors
Has numerous charging settings
Great AGM battery charger for deeply discharged batteries

CONs

Is a more expensive product
Does not work on sulfated batteries
Bottom-Line: When you drain your battery to its lowest point you need this charger to bring it back to life, the Optima Digital 400 does so better than most while providing a detailed readout.
OptiMATE Tecmate TM-193 6 12V-24V
Best Deep Cycle Weather Resistant Charger
In regard to environmental conditions, Tecmate's OptiMate 6 is one of the more versatile options for gel and AGM battery charging we reviewed. The OptiMATE 6 comes with a sealed case and waterproof lead to prevent issues connecting in poor conditions.
However, the OptiMATE 6 goes a step further by also functioning in the lowest temperatures we found at – 40-degrees Celsius, 20-degrees lower than its next closest competitor. The OptiMATE 6 is also one of the few we came across that is safe for sensitive electronics.
This product is also one of the few that we found, which features an 8-stage charging process, including charge tests both before and after charging. Finally, the OptiMATE 6 can charge 12V or 24V deep cycle batteries and can do so reasonably quickly with a current of 5A and 2.5A, respectively.
PROs

Can charge starter batteries
Safe for sensitive electronics
Has 8-stage charging
Has two types of connectors

CONs

More expensive
Has terrible customer service
Bottom-Line: While not the outright winner, the OptiMATE 6 is certainly in the running with the broadest operational temperature range we saw and the ability to work with more sensitive electronics.
CTEK 40-206 MXS 5.0-12 Volt
Best Mid-Range Option
By far, one of the greatest features of the CTEK MXS 5.0 is its 8-stage charging cycle, which makes short work of a wide variety of different battery issues. This multi-stage charging process reads the battery's condition and automatically carries out the necessary task of charging, reconditioning, or desulfination.
On top of that, the CTEK MXS 5.0 also provides an IP65 waterproof housing, so you can use it pretty much anywhere you go without having to worry about the weather. Even better, the CTEK MXS 5.0 also sports a wide temperature range, able to function in temperatures as low as –20 degrees Celsius.
The CTEK MXS 5.0 offers versatility as compared to many of the other models we reviewed by being able to recharge a calcium battery. The only real downside of the CTEK MXS 5.0 is that the battery must have a higher starting voltage before it begins charging.
PROs

Is IP65 waterproof
Has 8-stage charging
Can charge a wide variety of batteries
Has two types of connectors

CONs

Is a more expensive charger
Has a high minimum required voltage
Bottom-Line: While it is a bit more expensive than the "budget" options, the CTEK MXS 5.0 provides some of the greatest durability, is easy to use, and has broad versatility.
Last update on 2023-09-30 / Affiliate links / Images from Amazon Product Advertising API